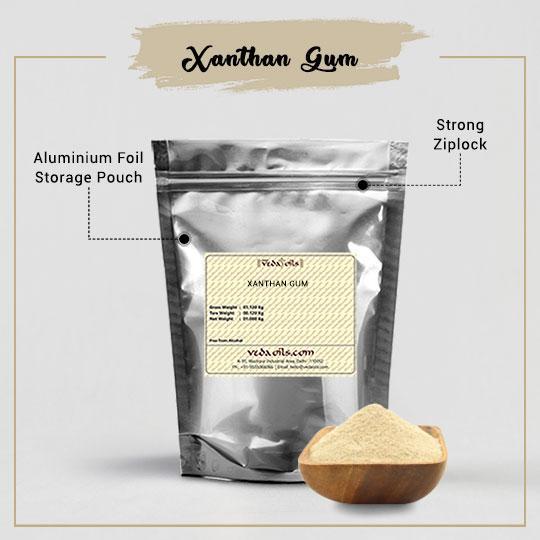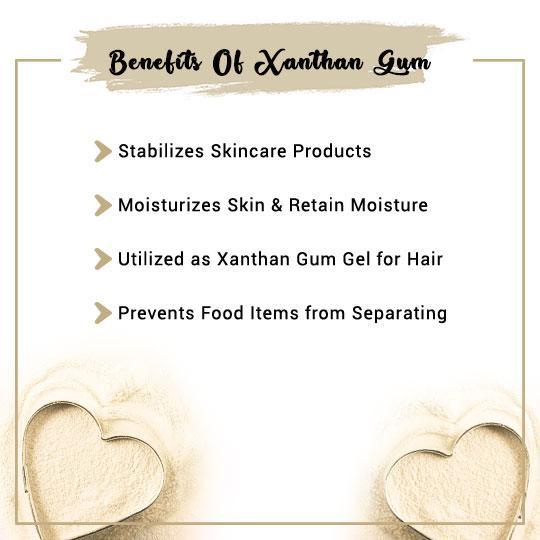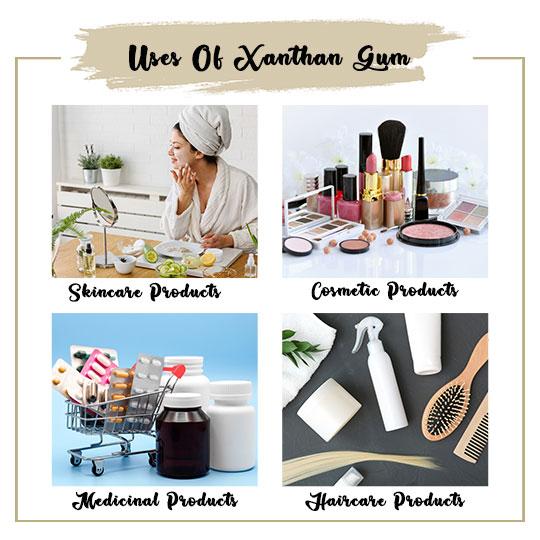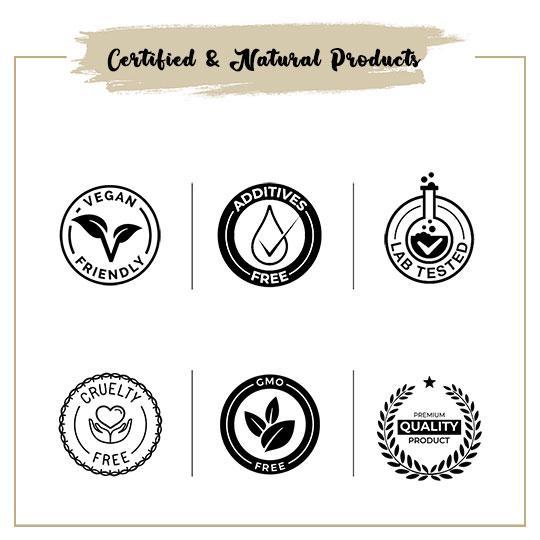 Our Certifications
Xanthan Gum
Xanthan Gum is a gum polysaccharide that is obtained from glucose or sucrose by fermenting it with the help of Xanthomas Campestris, a type of bacteria. Xanthan Gum is used to thicken emulsions that are formulated for cosmetic applications. Moreover, Xanthan Gum possesses stabilizing properties and water-repellent properties, as well.
Also, Xanthan Gum is more than 98% pure and is used for manufacturing clear gel. If you intend to increase the viscosity of formulas, you can add Xanthan Gum in small proportions. It comprises mannose, glucose, and glucuronic acid and is available in the white powdered form of white color. Xanthan Gum is gluten-free and can be dissolved in both warm and cold water.
Xanthan Gum Benefits
Acts as Thickener: Xanthan gum is used as a thickener that doesn't gel and also added to increase the viscosity of emulsions. Xanthan gum can replace synthetic preservatives as it can be used as an effective preservative.
Improve Texture: Xanthan gum enhances the quality of the products and also makes them stable and safe. Xanthan gum does not allow oils to separate from the formulas and can also improve the texture and consistency of cosmetic applications.
For Skin Care Products: Xanthan gum also proves to be nourishing and moisturizing for your skin. As a result, Xanthan gum proves to be an effective cosmetic ingredient in skincare products as well.
Enhance Foaming Properties: Xanthan Gum is safe, organic, and can be used by vegans as well. It has lubricating properties and can also be utilized for suspending solids in pigments. Xanthan gum is also sometimes added in surfactant systems to increase their foaming properties and enhance these systems' volume.
How to Use Xanthan Gum?
Xanthan gum is first dissolved in warm water by sprinkling it slowly on water and stirring it at high speed consistently. After that, propylene or butylene glycol is added when the emulsion is in the water phase so that three parts of glycol are added to one part of the Xanthan gum. Sodium chloride (0.5%) is added to enhance its thickening property. The recommended use level is between 0.5 and 2%.
Product Specifications
| | |
| --- | --- |
| Raw Material Source: | Bacterium Xanthomonas Campestris |
| Manufacturing Process: | It is manufactured from Xanthomonas Campestris, a type of bacteria, by using carbohydrate solution. The polymer of xanthan is then obtained through a process called precipitation where Isopropyl alcohol is used. After that, the obtained precipitate is milled and dried to obtain the powdered form of Xanthan Gum. |
| Chemical Formula: | (C35H49O29)n |
| CAS Number: | 11138-66-2 |
| INCI Name: | Xanthan Gum |
| Molecular Weight: | 933.748 g·mol−1 |
| Specific Gravity: | 0.713g |
| Boiling Point: | 311.00 °C |
| Flash Point: | 280.00 °F |
| PH Level: | 1 to 13 |
| Color: | White |
| Grade Standard: | Industrial Grade |
| Shelf Life: | 24 months |
| Purity (%): | 99% |
| Form: | Powdered |
| Alternative Names: | Bacterial Polysaccharide, Corn Sugar Gum, Goma Xantana, Gomme de Sucre de Maïs, Gomme de Xanthane |
| Solubility: | Yes |
| Applications: | Conditioners, lotions, body washes, shampoos, creams, shower gels, and other skin care and hair care products contain Xanthan Gum. |
CAUTION: It is only meant for external use.