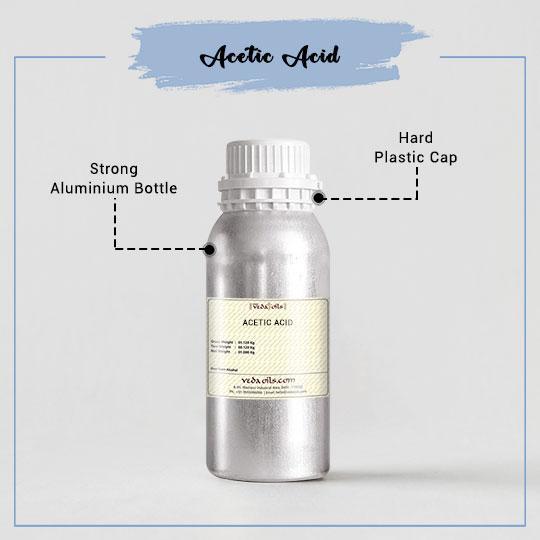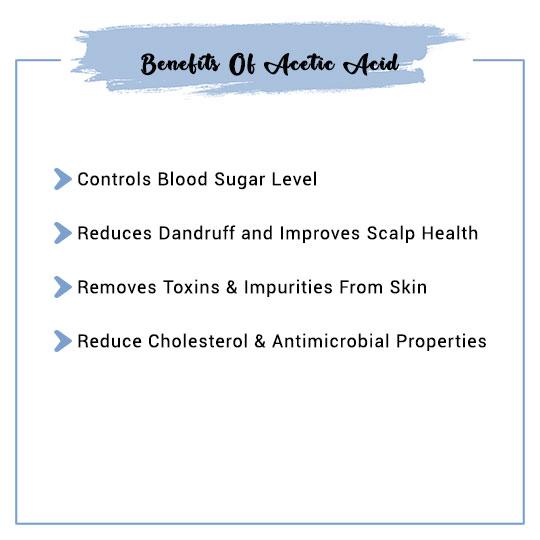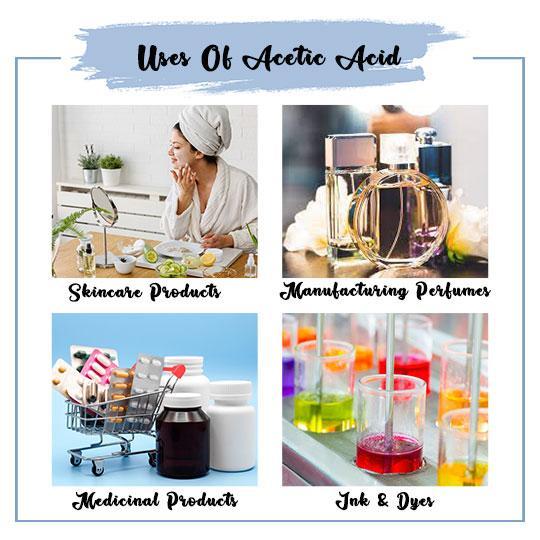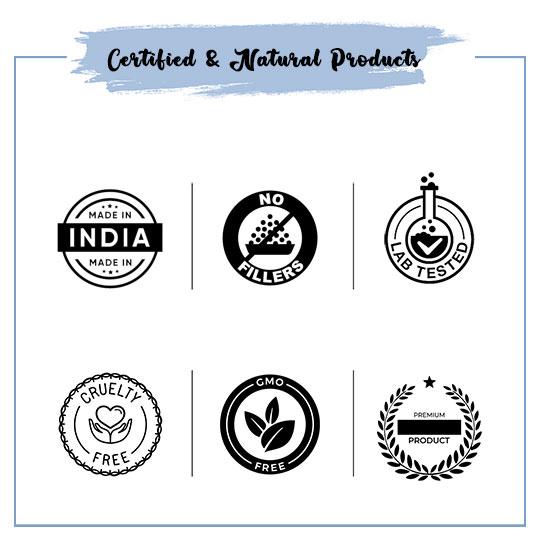 Our Certifications
Acetic Acid
Acetic Acid (ch3cooh) that is sometimes referred to as Ethanoic Acid is used in cosmetic formulation due to its antifungal and antibacterial properties. Acetic Acid widely used in the formulation of hair care products like shampoos, conditioners, etc. You may also find Acetic Acid in personal care products such as mouthwashes. Acetic Acid has a slightly pungent odor that will remind you of the typical odor of vinegar.
Acetic acid conditions your hair and enables you to use it for products that are meant for hair styling. As it is a mild acid, you can even add it to products such as face scrubs. Regular use of products containing acetic acid can make your hair straight and shiny. However, do not overuse it or be cautious while deciding its concentration as its acidic nature can make your skin and hair dry and rough. It dissolves readily in water and you may also mix it with glycerin, ether, benzene, and alcohol.
Acetic Acid Benefits
Detangles Hair: The deep conditioning properties of acetic acid helps to detangle messy hair. Therefore, Acetic Acid widely used in hair styling products and serums.
Blends Easily: Acetic Acid blends with a wide range of cosmetic raw materials. As it is colorless, you can use Acetic Acid in your products without being cautious of it affecting the color of the final product.
Protects Moisture: The hygroscopic properties of acetic acid empower it to draw moisture from the surroundings. Therefore, it can prove to be an effective ingredient in moisturizers.
Beneficial For Hair: Using acetic acid in hair shampoos and conditioners reduces dandruff and improves scalp health by eliminating the oils accumulated in it. Acetic Acid also resolves issues like dryness of hair and gives a visible shine to it.
Exfoliating: The exfoliating properties of acetic acid removes toxins and impurities from your skin. Due to its mild nature, Acetic Acid does not affect the texture and smoothness of your skin in any way.
How to use Acetic Acid?
You should ideally add acetic acid when your formula is in the water-phase. However, you might also add acetic acid at various stages of the formulation by maintaining the desired level of temperature.
Product Specifications
| | |
| --- | --- |
| Raw Material Source: | Vinegar |
| Manufacturing Process: | Acetic Acid is manufactured by fermenting vinegar which is followed by a process called oxidation. Salt and ether are also used to expedite these processes. |
| Chemical Formula: | CH₃COOH |
| CAS Number: | 64-19-7 |
| INCI Name: | Acetic Acid |
| Molecular Weight: | 60.052 grams/mole |
| Specific Gravity: | 1.014 - 1.075 |
| Boiling Point: | 118-degree Celsius |
| Flash Point: | 104-degree Fahrenheit |
| Odor: | Pungent odor similar to vinegar |
| PH Level: | 2–3 |
| HLB Value: | N/A |
| Color: | Colorless |
| Grade Standard: | Cosmetic |
| Shelf Life: | 24 months |
| Purity (%): | 99% |
| Form: | N/A |
| Alternative Names: | Ethanoic Acid |
| Solubility: | Water Soluble |
| Applications: | Hairstyling, shampoos, conditioners, moisturizers, etc. |
CAUTION: Use Acetic Acid in small concentrations as higher does might irritate your skin by making it dry and listless.
Buy Acetic Acid Online in USA at Low Prices
We at VedaOils are providing Premium-Quality Acetic Acid that can be purchased as per the quantity you require. It is a Cosmetic Grade Acetic Acid that is purposefully produced for external applications only. You can purchase Acetic Acid Online in bulk directly from our portal at an affordable price. You can use it Acetic Acid DIY Cosmetics and Hair Care products. Also, we have conducted a series of quality checks to provide the best quality product to our customers.
Frequently Asked Questions