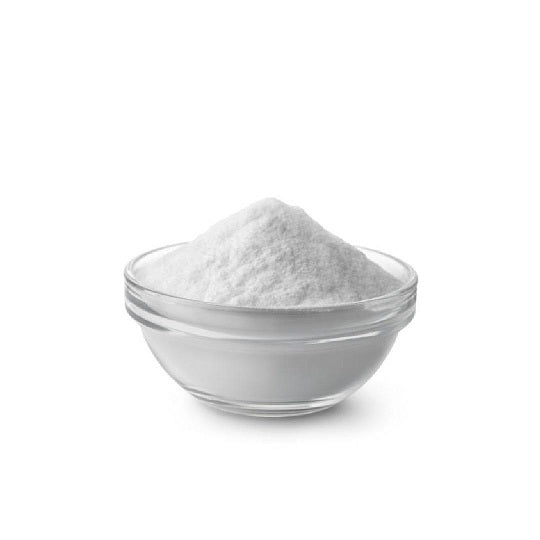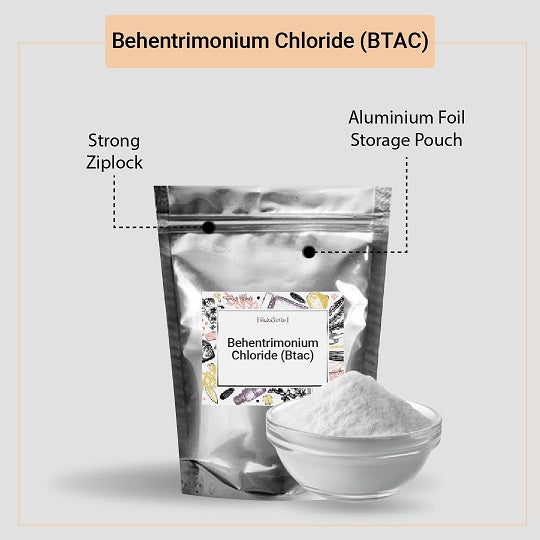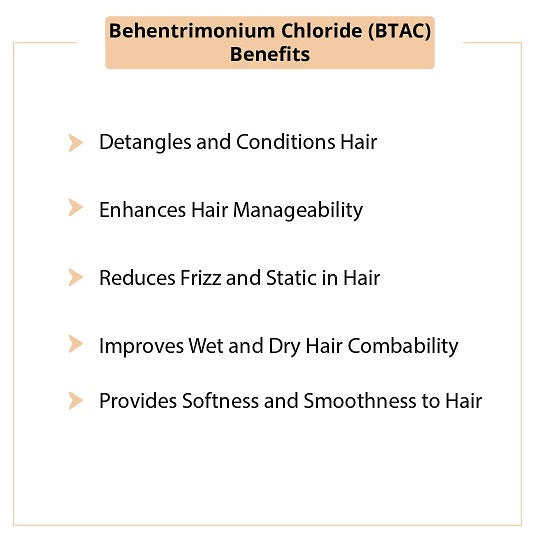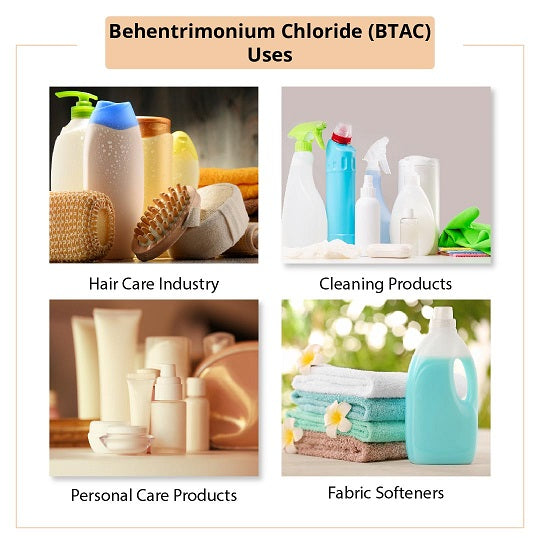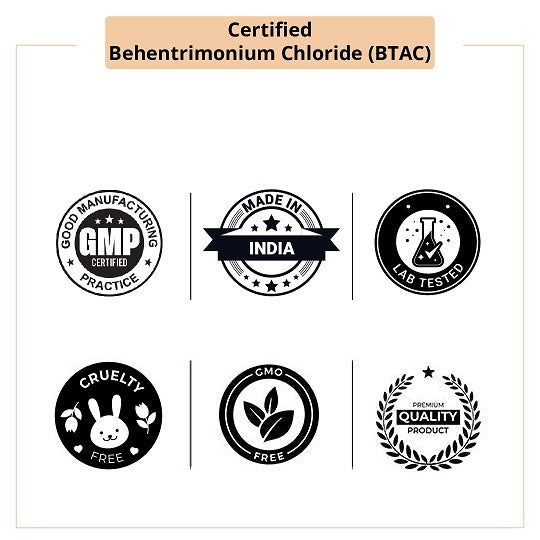 Our Certifications
Behentrimonium Chloride (Btac)
Behentrimonium Chloride (Btac) is a widely used compound in the cosmetic and personal care industry. It is a yellowish-white solid that can dissolve in water and has remarkable conditioning properties. Btac is primarily used as a conditioning agent in hair care products like conditioners, hair masks, and leave-in treatments. It helps improve the manageability, softness, and smoothness of the hair, reducing frizz and enhancing its overall appearance.
Additionally, Btac also possesses antistatic properties, making it effective in controlling flyaways and static electricity. Its cationic nature allows it to adhere to the hair shaft, ensuring long-lasting conditioning effects. Behentrimonium Chloride is an essential ingredient in hair care products, playing a vital role in enhancing their quality and performance, ultimately leading to healthier and more manageable hair.
Behentrimonium Chloride (Btac) Benefits & Uses
Hair Conditioner
Behentrimonium Chloride is widely used in hair conditioners for its exceptional moisturizing properties, detangling the hair and leaving it smooth and manageable.
Leave-In Treatments
Behentrimonium Chloride is an essential ingredient in leave-in hair treatments, delivering long-lasting conditioning effects to improve hair texture, manageability, and overall appearance.
Hair Masks
Behentrimonium Chloride is incorporated into hair masks to deeply nourish and hydrate the hair, resulting in soft, shiny, and revitalized strands.
Anti-Static Agent
its anti-static properties, Behentrimonium Chloride effectively reduces flyaways and tames frizz, making it an ideal component in hair care products that aim to maintain smoothness.
Skin Care
This versatile compound finds application in skincare products, where it functions as a conditioning and emulsifying agent, enhancing the texture and feel of creams, lotions, and other formulations.
Fabric Softeners
Behentrimonium Chloride is added to fabric softeners to provide a soft and luxurious feel to clothing and linens, while also minimizing static cling for improved comfort.
Product Specifications
| | |
| --- | --- |
| Product Name : | Behentrimonium Chloride |
| Brand Name: | VedaOils |
| Chemical Formula: | C25H54ClN |
| CAS Number: | 17301-53-0 |
| Color: | White or Pale yellow |
| Shelf Life: | 24 months |
| Molecular weight : | 404.16 g/mol |
| Form: | Pellets or Powder |
| Applications: | Hair Conditioner, Hair Masks, Anti-Static Agent & Skin Care. |
CAUTION: It is meant for external purposes. Keep it away from the reach of your kids and avoid direct contact with eyes.
Packaging Sizes
Please Note: The packaging shown above is a General Representation of the various sizes and types of packaging available for this product. Not all sizes and types of packaging for this product maybe available at all times.
Buy Behentrimonium Chloride (Btac) Online In USA at Wholesale Price
VedaOils is one of leading Wholesale suppliers, manufacturer, and exporter of Behentrimonium Chloride (Btac) in USA. Vedaoils manufactures the highest quality Behentrimonium Chloride (Btac) cosmetic that does not compromise with your health and beauty. Our Cosmetic Ingredients does not contain any harmful preservatives, fragrances, additives and filler. Order menthol bold crystal raw ingredients at a low price for Industrial & Personal end products.
We employ numerous tests and quality checks to ensure that only Premium-quality Behentrimonium Chloride (Btac) reaches you. The highest quality and packaging standards are employed to deliver desirable results on usage. Also, our portal uses a secure payment gateway such as Visa, Mastercard to safeguard your transactions. Order Behentrimonium Chloride (Btac) online in Bulk Quantity at Wholesale different packages so that you can order and use them as per your needs.
We export our Pure Behentrimonium Chloride (Btac) to the US, Canada, UK, Australia, and worldwide. Our products follow the highest standards when it comes to quality and purity. Your orders are delivered to your doorstep, so you don't have to worry about going outside. We assure you that you will not regret choosing us! We also deliver the products worldwide using our logistic partners DHL, FedEx, Blue Dart, India Post, etc. Get great cashback, combo offers, deals and discount offers while buying Behentrimonium Chloride (Btac) online from VedaOils store.
Frequently Asked Questions