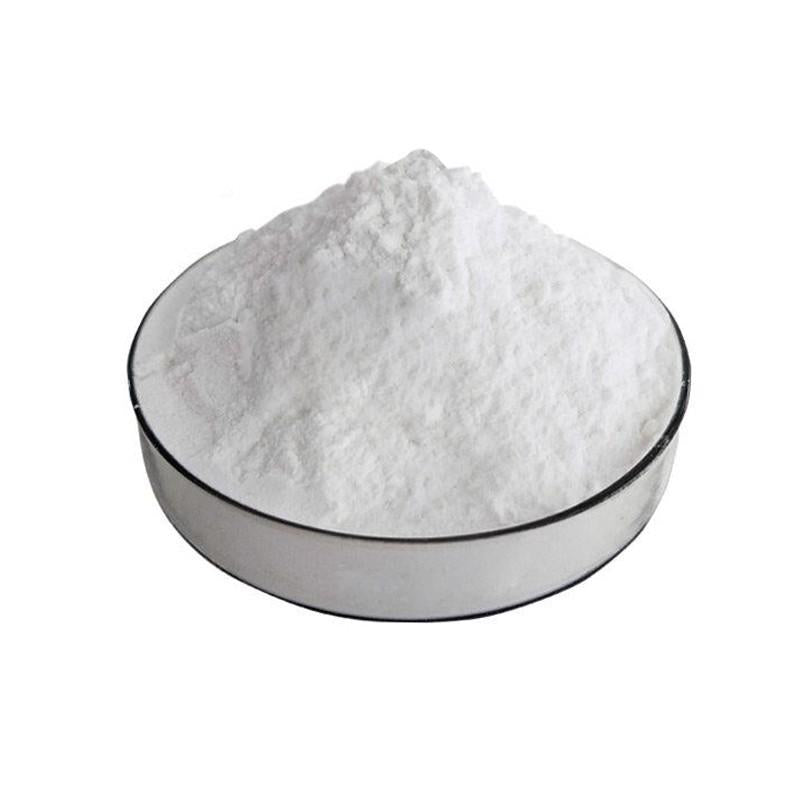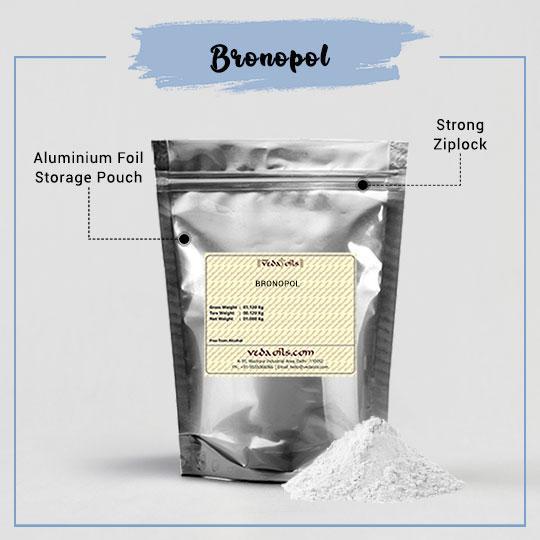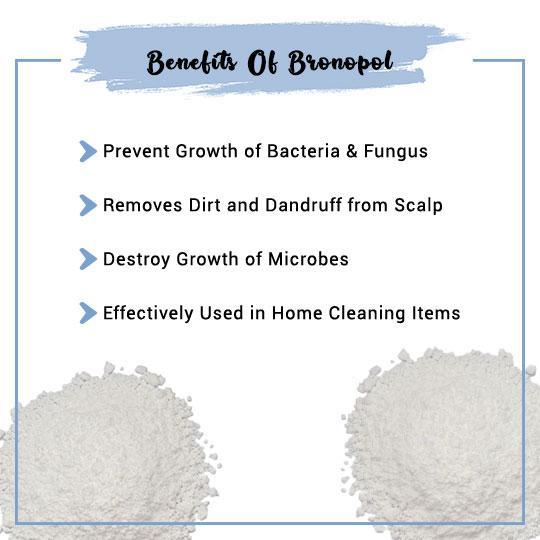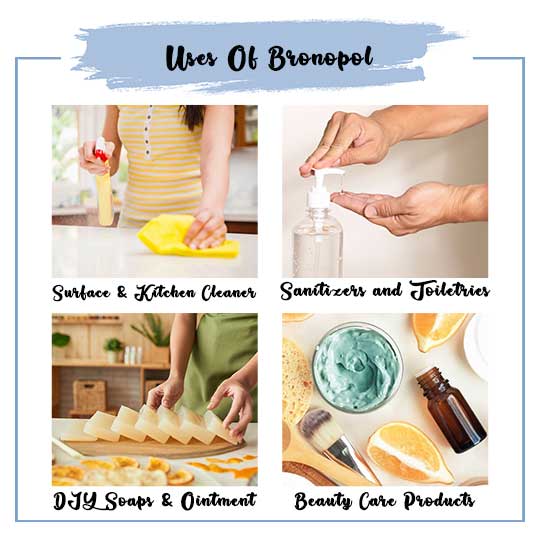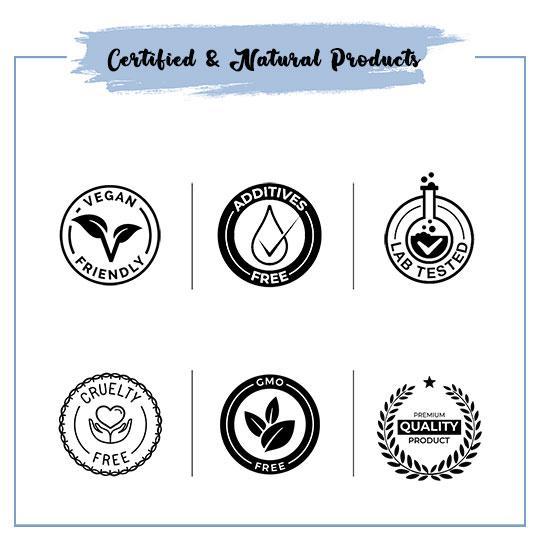 Our Certifications
Bronopol Chemical Powder
Bronopol has been used as one of the preservatives in bactericides that are used in various industries. This is mainly due to the antimicrobial properties that make it effective against bacteria and other microorganisms. After being a hit in various industrial applications, inks, absorbent clays, and paints, Bronopol is considered as one of the emerging raw materials in the cosmetic industry as well. It is also being used as a preservative in many personal care products.
You will find Bronopol in color cosmetics due to its white color and it is widely used in baby care products, hair care products, nail paint cleaners, adhesives, etc. Its bleaching properties make it an important ingredient in cosmetic formulations when the color of the end product is expected to be white.
Bronopol use as a preservative, it also proves to be an effective antimicrobial agent. It releases formaldehyde in the chemical formulations when added as a preservative. Therefore, it is to be used in very small quantities especially when the products are to be used for skincare purposes.
Bronopol Powder is also a popular ingredient in antiseptic creams due to its ability to inhibit bacterial and microbial growth. However, overexposure to the products containing this ingredient is not recommended especially for those people who are allergic to formaldehyde. This ingredient is available in the form of fine powder and is white. Also, remember that it is formulated only for external use. Therefore, you must avoid consuming it internally at any cost.
Bronopol Powder Benefits & Uses
Increases longevity of applications: When used in cosmetic applications like shampoos, creams. lotions, etc. it controls corrosion and prevents the growth of bacteria, fungi, and other microorganisms. As a result, you can add it as a preservative and it also blends with other preservatives easily and therefore, proves to be an effective co-preservative as well. Bronopol is so powerful as a preservative that even a small quantity proves to be enough to preserve a large quantity of emulsion.
Effective Cleanser: The ability of Bronopol to destroy the growth of microbes, makes it a good choice for floor cleaners, surface cleaners, and other cleaning applications. However, it might not be useful as a skin cleanser as it is used at very low concentrations when it comes to skincare products and cosmetics.
Flexible: As it is available in the fine-textured form, you can utilize it easily in various kinds of formulas. Moreover, it can be used to change the overall appearance and color of the final products as well.
For Sanitizers: As it is effective against a wide range of bacteria, yeast, fungi, and other microbes, Bronopol is also used in the manufacturing of hand sanitizers and other toiletries. You may also use it to make DIY liquid soaps and hand washes. However, avoid using it in personal care products like toothpaste that are intended to be used for internal cleaning.
Anti-Fungal: Due to its antifungal properties, it proves to be ideal in hair care products that are formulated to control dandruff. Moreover, it is also compatible with different types of surfactants that make it a versatile cosmetic ingredient.
Product Applications: Cleansers, toiletries, soaps, antibacterial creams, ointments, antiseptic lotions, and other cosmetic and personal care products contain Bronopol as one of their primary ingredients.
How to Use Bronopol Powder?
The typical use of level of Bronopol might vary between 0.03% and 0.1%. Avoid using it along with amines (secondary) and for cold process formula, add it at the beginning of the preparation.
Product Specifications
| | |
| --- | --- |
| Product Name: | Bronopol |
| Raw Material Source: | Bromopicrin, paraformaldehyde, nitromethane, and water |
| Manufacturing Process: | A vessel filled with ingredients like bromopicrin, paraformaldehyde, nitromethane, and water is charged to create a reaction in which bronopol is separated from the mixture. |
| Chemical Composition: | N/A |
| Chemical Formula: | C3H6BrNO4 |
| CAS Number: | 52-51-7 |
| INCI Name: | Bronopol |
| IUPAC Name: | 2-Bromo-2-nitro-1,3-propanediol |
| Molecular Weight: | 199.989 grams/mole |
| Boiling Point: | 140°C |
| Flash Point: | 167°C |
| Odor: | Mild fatty odor |
| PH Level: | 4 to 8 |
| HLB Value: | N/A |
| Color: | White |
| Grade Standard: | Technical Grade |
| Shelf Life: | 24 months |
| Purity (%): | 99% |
| Form: | Fine crystalline powder |
| Alternative Names: | CAPB |
| Solubility in Water: | Soluble |
| Applications: | Cosmetic, Personal Care, Skincare, and Haircare |
| COA: | |
Order Bronopol Chemical Online In Bulk Quantity at VedaOils
VedaOils is one of the leading exporters, manufacturers, and wholesale suppliers of Bronopol Chemical Powder and other cosmetic raw materials in USA. Buy Bronopol at the best price in USA through VedaOils online portal. We ensure smooth and safe transactions. We also employ a high standard of delivery to supply your order in the best quality.
You can buy VeaOils Bronopol Powder at wholesale prices as we are offering them in bulk quantities so that you can use them to enhance the appearance, properties, usefulness, and effectiveness of your end products. Order it now and experience the magic of purity and quality!. We also deliver the products across world wide using our logistic partners DHL, FedEx, USPS etc.
Frequently Asked Questions