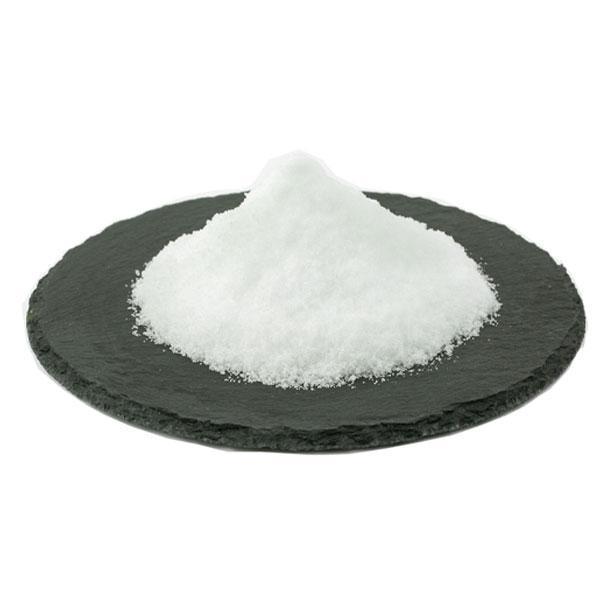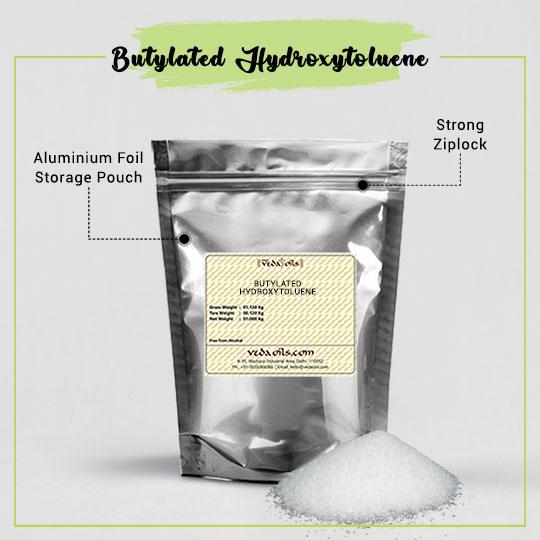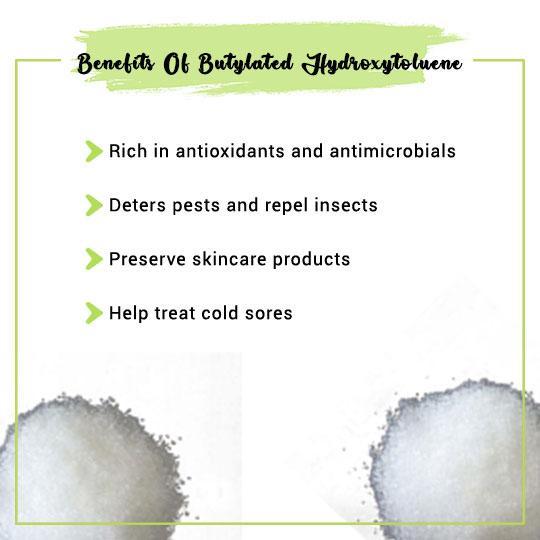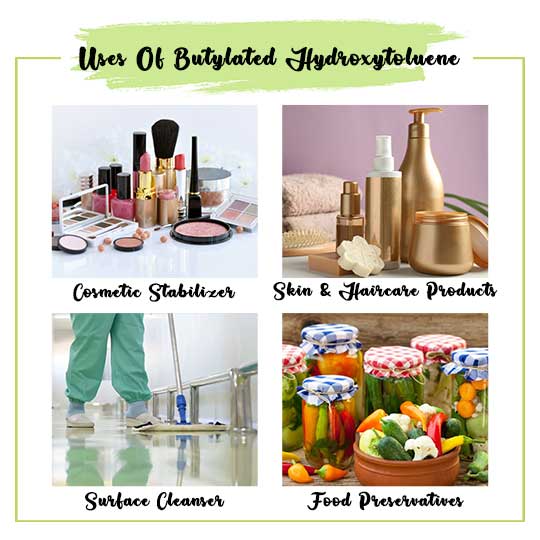 Our Certifications
Butylated Hydroxytoluene (BHT)
These are crystals of Butylated Hydroxytoluene (2,6-di-tert-butyl-4-methyl phenol) that vary from white to yellowish in color. BHT has a typical odor and does not dissolve in water. Butylated Hydroxytoluene can be dissolved partly in ethyl alcohol, isopropyl alcohol, and some other oils. BHT is prepared in the lab and has powerful antioxidants that make it an effective cosmetic ingredient.
Butylated Hydroxytoluene can also be applied directly to the skin for treating cold sores. BHT is also known for protecting the upper layer of skin cells from viruses and bacteria. Moreover, Butylated Hydroxytoluene is considered safe for the skin and has minimum to no side effects. However, people suffering from skin issues and irritation should avoid using BHT or consult a skin specialist before using the ingredients.
Butylated Hydroxytoluene Benefits and Uses
Stabilizing Agent
Butylated Hydroxytoluene has a neutralizing effect on free oxygen radicals that might prove to be hazardous for your skin. BHT also stops or slows down the deterioration of fats and oils in cosmetic formulations. It is also used to stabilize color, odor, texture, etc. cosmetics by stabilizing the colorants used in them.
Rich in Antioxidant
Butylated Hydroxytoluene can also be added as a preservative in skin care products and cosmetic products as it contains potent antioxidants that prevent the deterioration of formulas due to reactions of other ingredients with oxygen. These antioxidants act by obstructing the multiplication of peroxy radicals.
Antimicrobial
Butylated hydroxytoluene (BHT) has potent effectiveness in inhibiting the growth of microorganisms like yeasts, molds, C. hungaricus, and L. casci if the concentration of these phenol antioxidants is increased. Its strong antimicrobial properties prevent the spread of viruses and bacteria that damage your skin.
Skin Cleansers
Butylated Hydroxytoluene is considered safe in skin cleansers if it is used in low concentrations. The antioxidative properties present in these skin cleansers work to neutralize the oxidation process caused by free radicals. BHT also protects the skin from cell damage.
Cosmetic Formulations
Butylated Hydroxytoluene can obstruct the growth of free radicals and bacterias. Therefore it is considered to be a good addition to makeup products like eyeliners, blush, lipsticks, foundations but it can also be used in cosmetic applications like skin cleansers, creams, moisturizers, etc.
Skin Enhancement
BHT also offers some penetration ability to the cosmetic formulas. Still, the penetration isn't deep enough, and therefore, you might have to combine Butylated Hydroxytoluene with other cosmetic raw materials that improve the delivery of active ingredients.
How to Use Butylated Hydroxy Toluene (BHT)?
Butylated Hydroxytoluene should be added when the formula is in the fat phase, and the typical use level can be between 0.01 to 0.1%. For best results, combine it with EDTA.
Product Specifications
| | |
| --- | --- |
| Raw Material Source: | Isobutylene & P-cresol |
| Manufacturing Process: | It is produced from P-cresol and Isobutylene by using sulfuric acid as a catalyst. |
| Chemical Formula: | C15H24O |
| CAS Number: | 128-37-0 |
| INCI Name: | Butylated Hydroxytoluene |
| Molecular Weight: | 220.35 g/mol |
| Boiling Point: | 265 °C |
| Odor: | Odourless |
| Color: | White to pale yellow |
| Grade Standard: | Industrial Grade |
| Shelf Life: | 24 months |
| Alternative Names: | dibutylhydroxytoluene |
| Solubility: | Yes |
| Applications: | Creams, lotions, makeup products, sunscreens, shampoos, etc. might contain this ingredient due to its stabilizing properties. |
CAUTION: Remember that it is only meant for external use.
Packaging Sizes
Please Note: The packaging shown above is a General Representation of the various sizes and types of packaging available for this product. Not all sizes and types of packaging for this product maybe available at all times.
Buy Butylated Hydroxytoluene Online In USA at Wholesale Price
VedaOils is one of leading Wholesale suppliers, manufacturer, and exporter of Butylated Hydroxytoluene in USA. Vedaoils manufactures the highest quality BHT Chemical cosmetic that does not compromise with your health and beauty. Our Cosmetic Ingredients does not contain any harmful preservatives, fragrances, additives and filler. Order BHT raw ingredients at a low price for Industrial & Personal end products.
We employ numerous tests and quality checks to ensure that only Premium-quality BHT Butylated Hydroxytoluene reaches you. The highest quality and packaging standards are employed to deliver desirable results on usage. Also, our portal uses a secure payment gateway such as Visa, Mastercard to safeguard your transactions. Order BHT Online in Bulk Quantity at Wholesale different packages so that you can order and use them as per your needs.
We export our high-quality BHT Chemical to the US, Canada, UK, Australia, and worldwide at different packaging sizes ( 3.5 oz, 1.1 lb,2.2 lb,11 lb,22 lb and 44 lb). Our products follow the highest standards when it comes to quality and purity. Your orders are delivered to your doorstep, so you don't have to worry about going outside. We assure you that you will not regret choosing us! We also deliver the products worldwide using our logistic partners DHL, FedEx, etc. Get great cashback, combo offers, deals and discount offers while buying Butylated Hydroxytoluene online from VedaOils store.
Q: Is butylated hydroxytoluene safe?

A: Yes, this is safe for products because it has rich antioxidant and antimicrobial properties. But you should use it in the right concentration.

Q: Is BHT safe for hair?

A: Yes, it is safe for hair because if it is used by the company in only 0.01 % to 0.1%

Q: Is BHT chemical safe for skin?

A: Yes, Butylated hydroxytoluene is safe for the skin because it knocks off all the free radicals and bacteria from it.

Q: Is BHT butylated hydroxytoluene vegan?

A: Yes, Butylated hydroxytoluene is vegan as it does not contain any animal-derived ingredients.

Q: Where does butylated hydroxytoluene come from?

A: Commercially, BHT is produced in chemical labs by reacting methyl phenol with a catalyst.

Q: Where to buy BHT in Bulk?

A: VedaOils is the bulk manufacturer, supplier, wholesaler, and distributor of the best quality Butylated hydroxytoluene. We offer all of our products at a discounted price so you can order them from our website.

Q: How should BHT be mixed during soap making process? Is it ok to add to Oil and lye simultaneously?

BHT (butylated hydroxytoluene) is an antioxidant often used in soap making to help extend the shelf life of oils and prevent rancidity. It is an oil-soluble antioxidant, which means it should be added to the oil phase of the soap-making process.

To add BHT to your soap recipe, you can mix it into your melted oils before adding the lye solution. It's generally recommended to use about 0.01-0.05% BHT based on the weight of your oils.

It's important to note that BHT should be used with caution as it has been linked to potential health concerns in some studies. If you choose to use BHT in your soap-making process, it's crucial to follow the recommended usage rates and to handle it with care.

In summary, BHT should be added to the oil phase of your soap-making process, and it's best to mix it in with your melted oils before adding the lye solution. It's also essential to handle BHT with care and follow recommended usage rates to ensure the safety and quality of your soap.