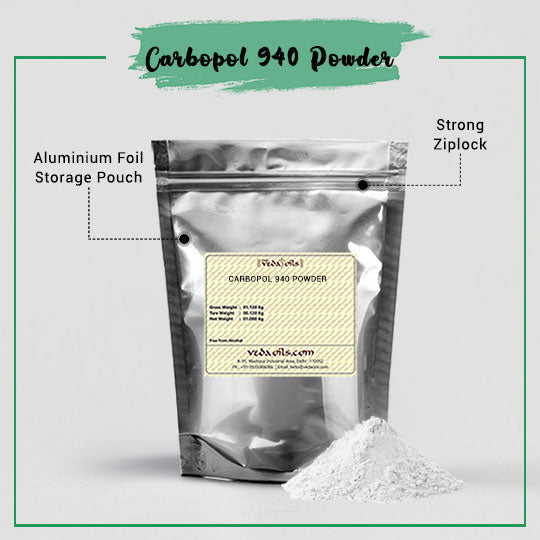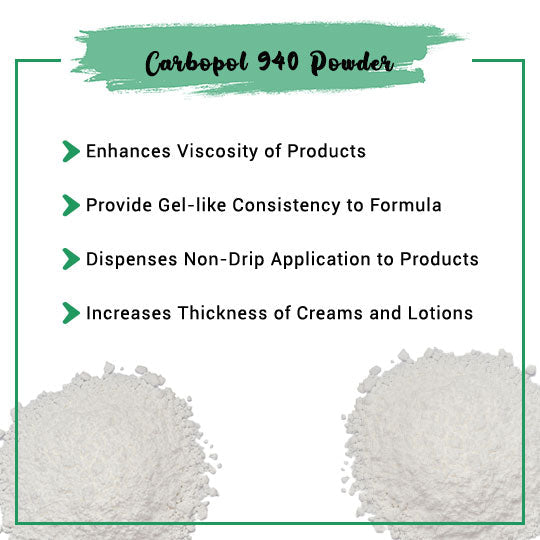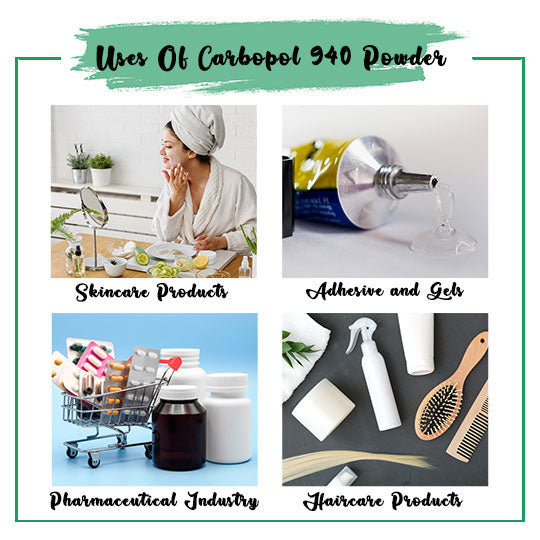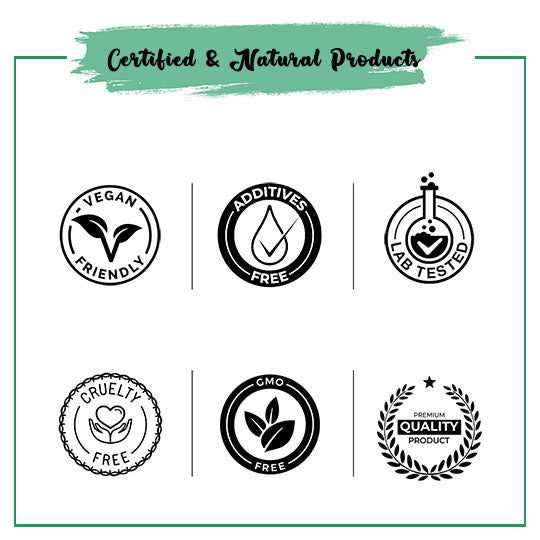 Our Certifications
Carbopol 940 Powder
Carbomer, also known as Carbopol 940 powder, is a polyvinyl carboxy polymer that comes in a fluffy white powder form. A crosslinked polyacrylic acid polymer is used to make bioadhesive. Because of its excellent stabilising abilities, it is employed as a viscosity enhancer or suspension agent. It works as a gelling agent because it aids in the formation of sparkling clear gels, hydro-alcoholic gels, and creams.
Natural Carbopol 940 Powder contains nanoparticles that make it a superb stabiliser and non-drip agent. Carbopol is an acrylic polymer that is non-toxic and non-irritable. It's utilised to make hydroalcoholic gels and transparent bioadhesive gels out of any materials. This gelling agent has a wide range of applications. This polymer is used in products that have good absorption qualities.
Carbopol Powder is so finely ground that it can simply be mixed with both oil and water-based substances. Other watery materials, such as ethanol, alcohol, and vegetable glycerin, are likewise extremely soluble in it. Because these products penetrate the skin fast, Carbopol 940 Polymer Powder is appropriate for use in skin care and cosmetic goods. Because of its versatility, this chemical is very commonly used in hairstyling products.
Carbopol 940 Powder Uses
Skincare Products
Carbopol 940 powder is used in gel-based skincare products such as creams, moisturisers, scrubs, and face wash because it gives the goods a particular consistency. It also improves product texture thickness.
Face Masks
Carbopol is used in face packs and masks to improve the texture and formula of the products. Its great spreadability and emulsifying capabilities also make product application simple.
Hairstyling Products
Carbopol polymer powder is used in hair styling products such as gels, mousse, setting sprays, serums, and so on because it helps to keep hair in place. This substance is also used in Heat Repellent sprays and lotions to protect hair from direct heat.
Medical Bandages
Carbopol 940 is a nontoxic biomaterial that is used to make bandages and hydrogels that aid in the treatment of burn injuries and wounds by promoting tissue development in the burnt area. It is also hydro-repellent, which protects burned skin from water.
Sunscreen
Carbopol polymer increases photoprotection action and is used to make gel, cream, and spray-based sunscreen and sunblock. Because of its broad protective spectrum, it is effective at shielding skin from harmful UVA and UVB rays.
Hair Care Products
Carbopol 940 is used in shampoo, conditioner, hair masks, hair wax, and other products to control product thickness and consistency. It also improves the appearance of hair strands by making them smoother, shinier, textured, and voluminous.
Carbopol 940 Powder Benefits
Viscosity Enhancer
The use of carbopol powder in product formulation aids in product thickness and uniformity control. It gives products a non-drip formula by increasing viscosity, making it an excellent ingredient for skin care and beauty treatments that require a gelling consistency.
Gelling Agent
Natural carbopol 940 polymer powder is used in a variety of products to give them a gel-like consistency. Acrylic acid functions as a gelling agent when it is present in a group of synthetic high molecular polymers.
Product Stabilizer
Carbopol powder's neutral composition is utilised as a stabiliser in a number of goods. It's also utilised as a suspension stabiliser, making it easier to disseminate and emulsify. The white and fluffy powder's stable nature blends well with most substances.
Emulsifier
Carbopol 940 is a polyacrylic polymer with a high molecular weight that is commonly used for emulsification. The polymer has a modest lipophilic and a big hydrophilic component, making it a good emulsifier.
Blendable
Carbopol is a versatile texture enhancer that can be blended with a variety of components. This polymer's formulation is created in such a way that its qualities and consistency are maintained even when it is subjected to particular treatments.
Prevents Phototoxicity
Because carbopol polymer application prevents skin irritation and sensitization, it is an excellent constituent in cosmetic products with low phototoxicity and photoallergenicity. Under direct light, its firm features remain steady.
Product Specifications
| | |
| --- | --- |
| Product Name: | Carbopol 940 Powder |
| Raw Material Source: | Dextrose i.e. sugar derived from wheat |
| Manufacturing Process: | It is produced in the lab by condensing Trimethylhydroquinone (2,3&5) with Isophytol and a solvent (either hexane or benzene). Zinc Chloride is used as a catalyst in this process. |
| Chemical Formula: | C6H14O6 |
| CAS Number: | 50-70-4 |
| INCI Name: | Carbopol 940 |
| IUPAC Name: | (2S,3R,4R,5R)-Hexane-1,2,3,4,5,6-hexol |
| Molecular Weight: | 182.17 g/mol |
| Boiling Point: | 295oC |
| Flash Point: | N/A |
| Odor: | Sweet |
| PH Level: | 6 to 7 |
| HLB Value: | N/A |
| Color: | Pale yellow |
| Grade Standard: | N/A |
| Shelf Life: | 24 months |
| Purity (%): | 99% |
| Form: | Powder |
| Alternative Names: | D-glucitol; D-Sorbitol; Sorbogem; Sorbo |
| Solubility: | Soluble in Water |
| Industry: | Cosmetic, Personal Care, Skincare |
CAUTION: This product is only meant for external application. Therefore, avoid using it internally, and do not use it if you are suffering from any skin ailments.
Buy Carbopol 940 Powder at Wholesale Price
Natural Carbopol 940 Powder is one of the most popular wholesale suppliers, manufacturers, and exporters in USA. Vedaoils produces high-quality carbopol powder cosmetics that are safe for your health and appearance. There are no toxic preservatives, perfumes, chemicals, or fillers in our Cosmetic Ingredients. Order low-cost organic raw ingredients for industrial and personal final products.
We put our natural carbopol through a series of tests and quality checks to ensure that only the highest-grade carbopol reaches you. To achieve desired usage results, the highest quality and packaging standards are used. In addition, to protect your transactions, our site uses a secure payment gateway such as Paypal, Visa or Mastercard. Order cosmetic powder in bulk quantities at wholesale prices in a variety of packaging so that you may order and use it as needed.
We ship Pure Carbopol 940 Polymer Powder to the United States, Canada, the United Kingdom, Australia, and other countries across the world. When it comes to quality and purity, our products meet the greatest criteria. You don't have to bother about going outside because your orders are delivered to your doorstep. We guarantee that you will not be disappointed in your decision to work with us! Our logistic partners DHL, FedEx, Blue Dart, India Post, and others help us deliver products all over the world. When you buy carbopol powder 940 online from VedaOils, you can get fantastic cashback, combo offers, deals, and discounts.
Frequently Asked Questions