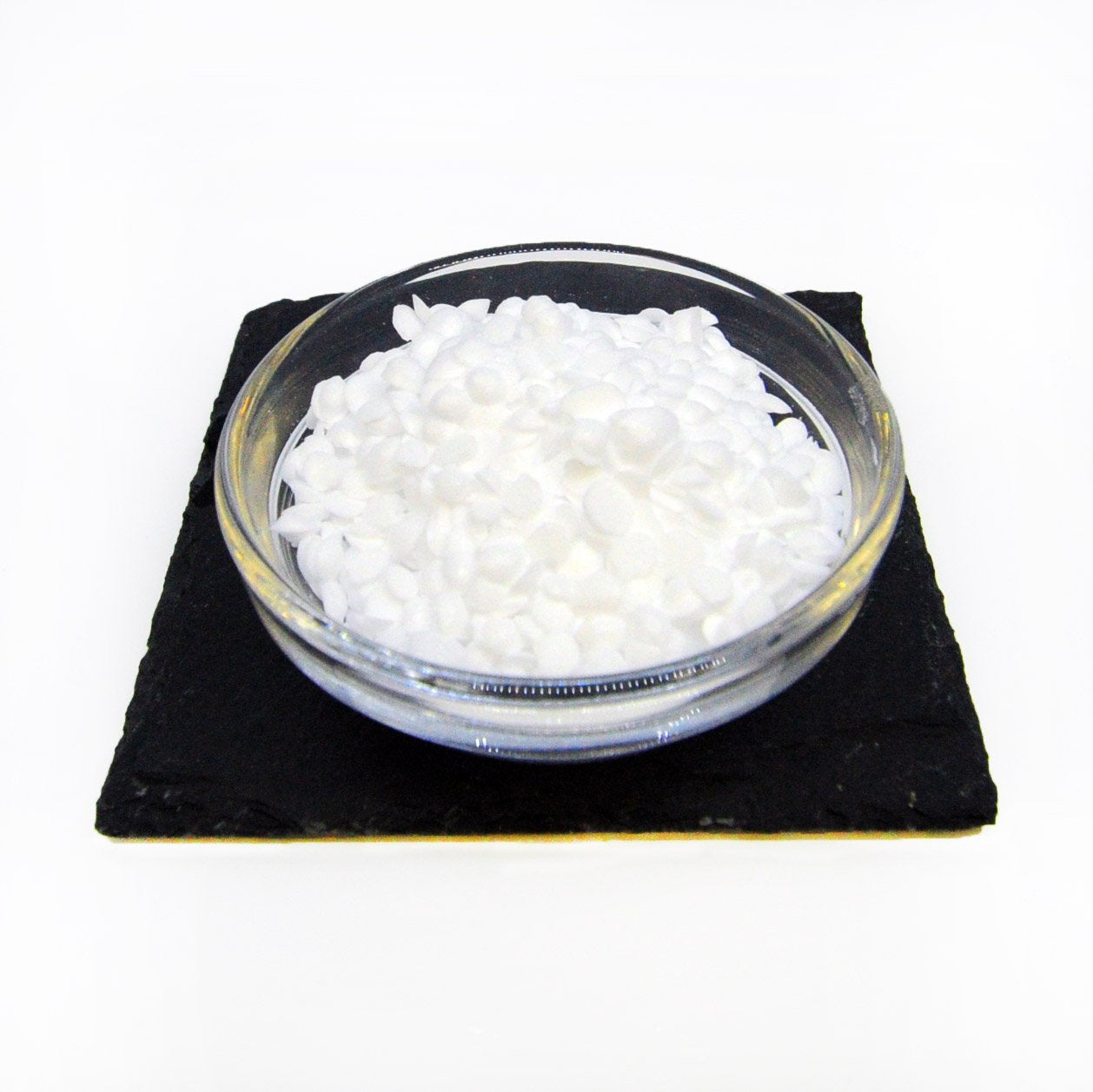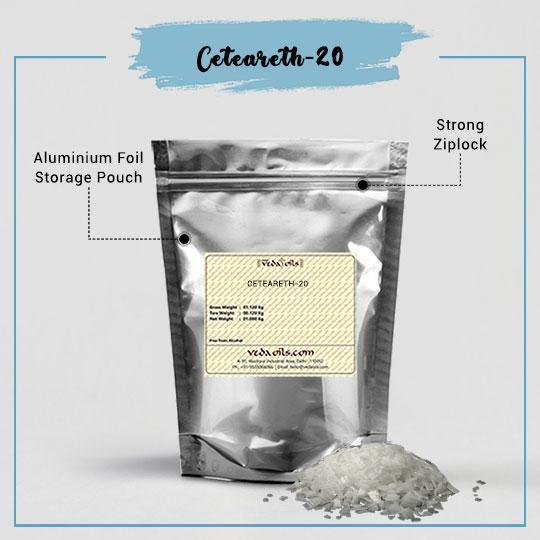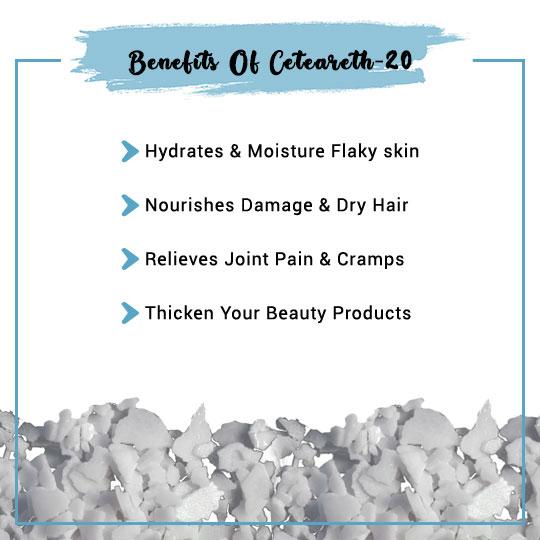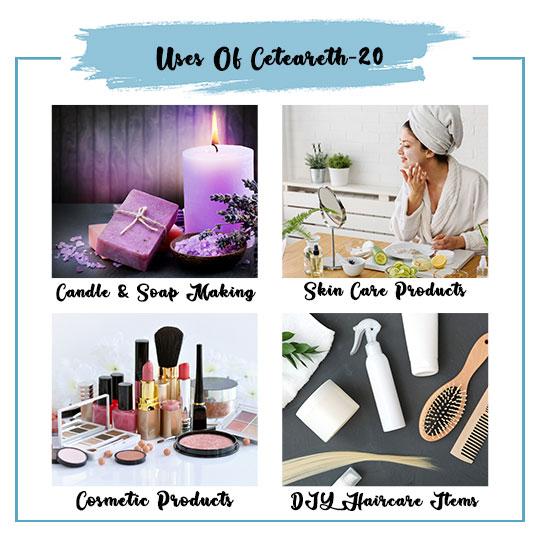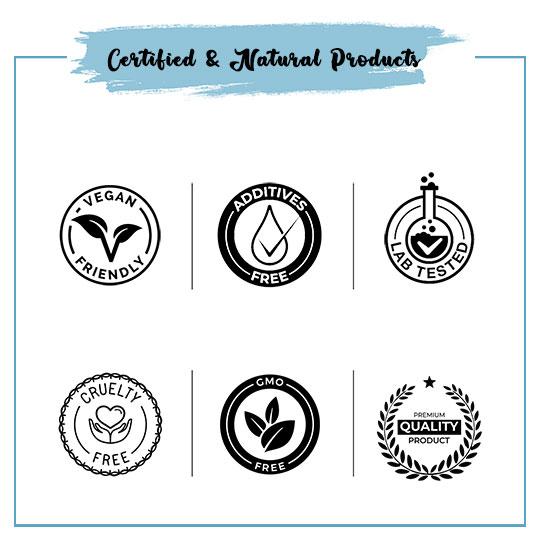 Our Certifications
Ceteareth-20
It is an ether of fatty alcohols like Stearyl Alcohol or cetyl that are highly saturated. Ceteareth 20 is nonionic polyoxyethylene that is odourless and is available in the form of pellets of white colour. Ceteareth-20 is soluble in both alcohol and water and is often used to give a colloidal structure to the solution.
The HLB value of Ceteareth-20 ranges between 15 and 17, and it is used in the making of oil-in-water emulsions. It is an effective emulsifier and surfactant and also possesses emollient properties. Ceteareth-20 can be used as a cleansing agent in cosmetic products. Ceteareth-20 can be combined with synthetic and vegetable oils and minerals.
Ceteareth-20 helps in the production of emulsions by decreasing the surface tension of ingredients that are needed to be emulsified. Ceteareth-20 also proves to be effective in reducing the viscosity or thickness of solutions used to make personal care products and liquid formulas.
Ceteareth-20 also helps other cosmetic raw materials to dissolve quickly in solvents. However, you might also need Ceteareth-100 and Ceteareth-50 to expedite this process. Ceteareth-20 is excellent cleansing properties make it one of the valuable additions in skin and hair cleansing applications.
Ceteareth-20 Uses
Body Butter
High emollient, exfoliating, emulsifying, and viscosity-increasing properties of ceteareth 20 make it an essential ingredient in preparing body butter and conditioners. It can be exceptionally beneficial for the skin.
Moisturizer
Ceteareth 20 is an excellent emulsifier. You can use this product in the formulation of moisturizers. It would act as an efficient emulsifier and bind the water and oil together, thereby formulating a best-in-class moisturizer.
Skin Cleanser
Ceteareth 20 can be used to prepare highly efficient skin cleansers due to its effective surfactant properties. It attracts the oil, dirt, and grime accumulated on your skin and helps wash them away.
Hair Care Products
Ceteareth 20 has fabulous emollient properties that help add moisture to your hair and make it silky and shiny. It keeps your scalp healthy by hydrating, thereby preventing dry and itchy scalp.
Anti-inflammatory
Ceteareth 20 is highly effective in treating redness, inflammation, and skin conditions like eczema, cold sores, and rosacea. It can also aid in relieving skin conditions like psoriasis, hives, and rashes.
Shower Gels
Ceteareth 20 aids in increasing the viscosity of a formulation and works excellently for gel-forming thickeners. You can use cetearyl 20 in the preparation of facial serums and shower gels.
Ceteareth-20 Benefits
Stabilizer
Cetearyl-20 is often used to stabilize various dispersed systems as it acts as a protective colloid. Ceteareth-20 is also useful as a thickener in gels and other solutions where colloidal consistency is expected from the final product.
Easily Blends
Ceteareth-20 stabilizes emulsions when blended with other emulsifiers like glyceryl stearate and It is considered to be a key ingredient. Cetearyl-20 can be used along with different types of oils and active substances as well.
Penetration Capacity
Natural ceteareth-20 functions as an emollient, surfactant and emulsifier. Due to its high penetration capacity might not be wise to use products containing cetearyl 20, especially if you have dry, sensitive, or damaged skin.
Binding Properties
Ceteareth 20 can be used with emulsifiers to provide stability to a formulation. It helps in binding the active ingredients together in skincare and haircare formulations, thereby stabilizing your formula.
Product Enhancing
Ceteareth 20 helps prevent the active ingredients in the formula from separating and aids in the even, effective and efficient application of the products, thereby enhancing the product's performance.
Emulsification
Ceteareth-20 is an excellent emulsifier that helps produce an oil-water emulsion and is compatible with many oils. It can be used with other emulsifiers to stabilize any product.
Product Specifications
| | |
| --- | --- |
| Raw Material Source: | Vegetable oils & Ethylene Oxide |
| Manufacturing Process: | Firstly, fatty alcohols such as stearyl and cetyl alcohols are obtained by processing vegetable oils and then they are ethoxylated with the help of ethylene oxide as the final product should contain 20 molecules of ethylene oxide. |
| Chemical Formula: | R(OCH2CH2)n |
| CAS Number: | 68439-49-6 |
| IUPAC Name: | N/A |
| INCI Name: | Ceteareth-20 |
| Molecular Weight: | 314.5 g/mol |
| Specific Gravity: | N/A |
| Boiling Point: | N/A |
| Flash Point: | N/A |
| Odor: | N/A |
| PH Level: | 3-12 |
| HLB Value: | N/A |
| Color: | White |
| Grade Standard: | Industrial Grade |
| Shelf Life: | 24 months |
| Purity (%): | 99% |
| Form: | Granules |
| Alternative Names: | Polyoxyethylene(20) Cetylstearylether. |
| Solubility: | Yes |
| Applications: | Creams, gels, foundations, lotions, sunscreen applications, conditioners, and different types of products that are emulsion based contain Ceteareth-20. |
CAUTION: Ceteareth-20 is only formulated to be used for external applications.
Packaging Sizes
Please Note: The packaging shown above is a General Representation of the various sizes and types of packaging available for this product. Not all sizes and types of packaging for this product maybe available at all times.
Buy Ceteareth-20 Online in USA at Wholesale Price
VedaOils is one of leading Wholesale suppliers, manufacturer, and exporter of Ceteareth-20 in USA. Vedaoils manufactures the highest quality Ceteareth-20 that does not compromise with your health and beauty. Our Cosmetic Ingredients does not contain any harmful preservatives, fragrances, additives and filler. Order Ceteareth-20 raw ingredients at a low price for Industrial & Personal end products.
We employ numerous tests and quality checks to ensure that only Premium-quality Cetearyl-20 reaches you. The highest quality and packaging standards are employed to deliver desirable results on usage. Also, our portal uses a secure payment gateway such as Visa, Mastercard to safeguard your transactions. Order Ceteareth-20 Online in Bulk Quantity at Wholesale different packages so that you can order and use them as per your needs.
We export our high-quality Ceteareth-20 to the US, Canada, UK, Australia, and worldwide. Our products follow the highest standards when it comes to quality and purity. Your orders are delivered to your doorstep, so you don't have to worry about going outside. We assure you that you will not regret choosing us! We also deliver the products worldwide using our logistic partners DHL, FedEx, Blue Dart, India Post, etc. Get great cashback, combo offers, deals and discount offers while buying Ceteareth-20 online from VedaOils store.
Frequently Asked Questions