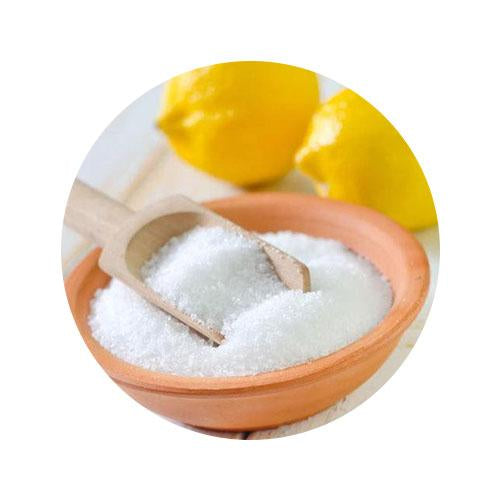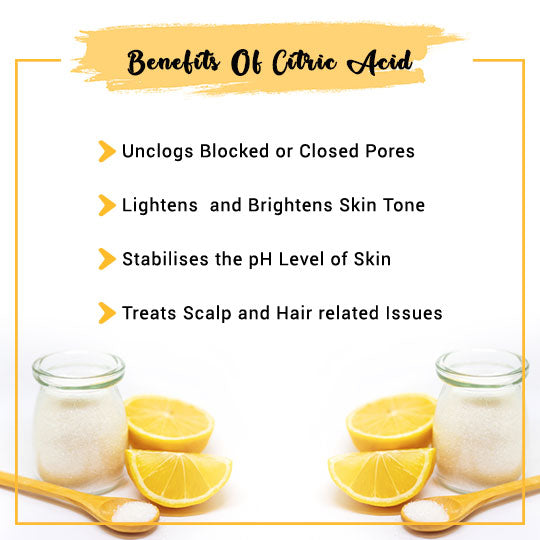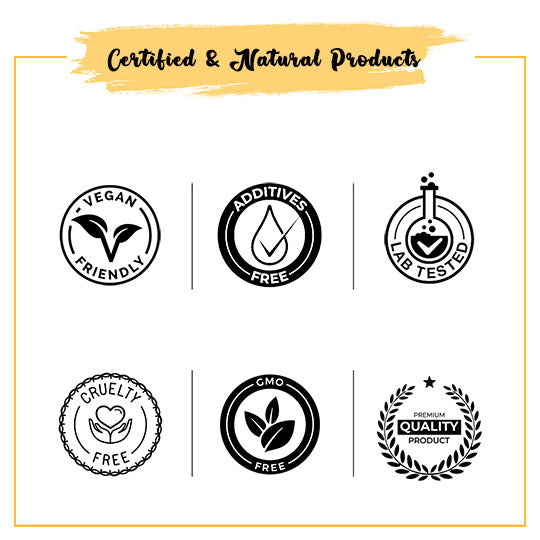 Our Certifications
Citric Acid
Citric Acid is commonly found in fruits that belong to the 'Citrus' family such as orange, lemon, lime, etc. However, this acid's manufactured version is quite different from the naturally occurring citric acid and used in various purposes. This form of citric acid that we offer, manufactured through a fermentation process by using carbohydrates. Citric acid is a powdered mixture of white colour that is odourless.
The pH value of citric acid usually around 2.2 in 0.1% of the solution. Moreover, this powder is water-soluble as well. It is suitable for most skin types, and people of all age groups can use it without any side effects. However, people who have sensitive skin can test it on the elbow before using it directly.
Citric Acid used as one of the cosmetic ingredients in skincare products. This acid mostly used as a preservative in cosmetic products and sodium salts and potassium, it is sometimes used for balancing the acid-base ratio of the formulae.
Citric Acid Benefits
Skin Health: Citric Acid belongs to the group of AHA (Alpha Hydroxy Acids). It is a popular ingredient in personal care and skin care products due to various reasons.
Skin Whitening Properties: It exhibits powerful skin exfoliating properties that make your skin bright, smooth, and radiant. Most of the acids might be harsh on your rough and gentle skin, but as it belongs to the milder AHA group, it is milder and causes less irritation than others.
Act as an Antioxidant: The right concentration of this acid will improve the antioxidant properties of your homemade DIY beauty care and cosmetic products.
Brightens and Lightens Skin: The Anti-oxidizing Properties of citric acid protect your skin from the harmful effects of sunlight, pollution, and other external factors.
Unclogs Blocked Pores: It is ideal for people who have oily skin as it also shows astringent properties. Also, it reduces your skin pores' size to give your skin a more even and smooth appearance and softer feel. It does this by unclogging the pores and eliminating dirt, sweat, and other impurities from them.
Anti-Aging Properties: Citric acid maintains the pH level of those portions of your skin that are crucial for balancing the normalcy of the skin barrier function. It also minimizes the impact of ageing issues like wrinkles and fine lines by influencing the hydrating support matrix of your skin.
Used as pH Stabilizer: You can also use it as a stabilizer and to keep the pH level of the products between 2.5 and 6.5.
Helps Balance Skin pH: Apart from direct skin benefits, citric acid also used for adjusting the pH level of the cosmetic formulas. It can prove to be useful in increasing the acidic properties of the products or for reducing the alkaline properties as well.
Chelating Agent: The Chelating effect of citric acid makes the minerals neutral which results in improving the anti-oxidizing properties and also enhances its effectiveness as a preservative.
How to Use Citric acid?
Do not keep the concentration greater than 10% and do not use it when the pH level is greater than 3.5. You can add this citric acid powder to the products without changing its chemical composition. However, use it for external purposes only.
Product Specifications
| | |
| --- | --- |
| Raw Material Source: | N/A |
| Manufacturing Process: | Citric Acid is manufactured through a submerged fermentation process . |
| Chemical Formula: | C6H8O7 |
| CAS Number: | 77-92-9 |
| IUPAC Name: | 2-Hydroxy-1,2,3-propanetricarboxylic acid |
| Molecular Weight: | 192.12 g/mol |
| Boiling Point: | 310 °C |
| Flash Point: | 100 °C |
| Odor: | Odorless |
| PH Level: | 3 to 6 |
| HLB Value: | N/A |
| Color: | White |
| Grade Standard: | Technical Grade |
| Shelf Life: | 24 months |
| Purity (%): | 99% |
| Form: | Fine powder |
| Alternative Names: | N/A |
| Solubility: | Soluble in Water,Alcohol |
| Industry: | Cosmetic, Skin Care Products |
CAUTION: This product is only meant for external application. Therefore, avoid using it internally, and do not use it if you are suffering from any skin ailments.
Frequently Asked Questions