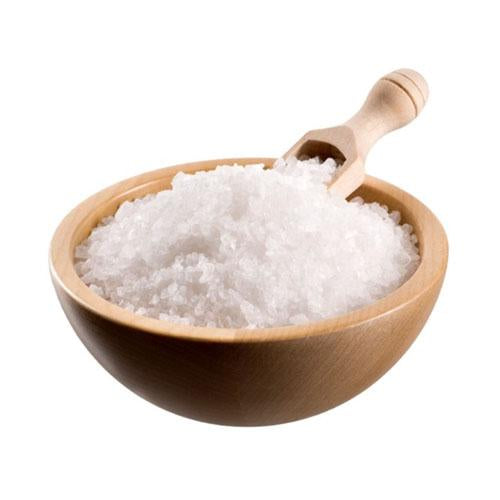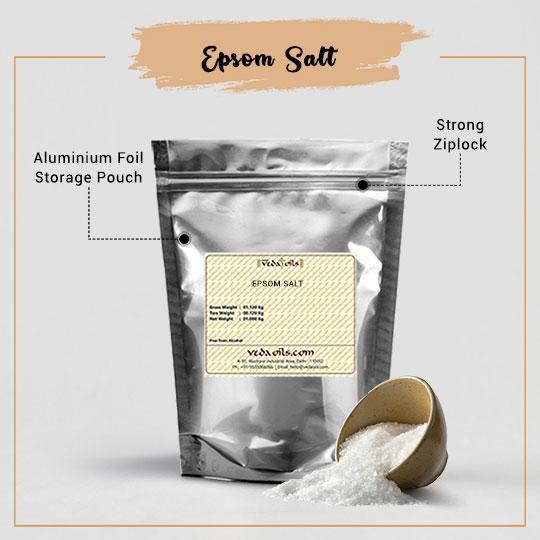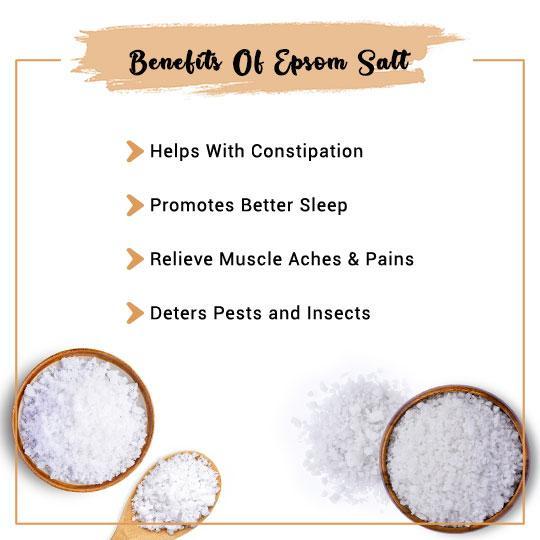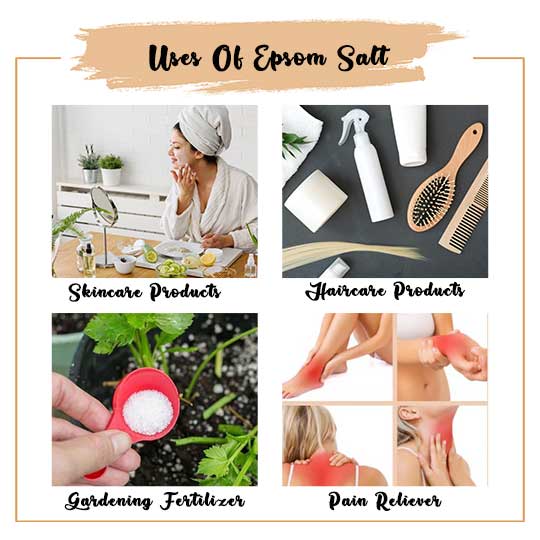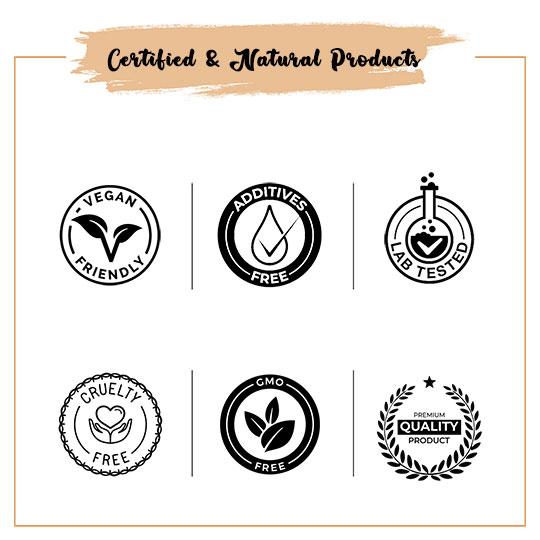 Our Certifications
Epsom Salt
Epsom Salt i.e. Magnesium Sulfate is available in the form of small crystals. Epsom salt is popular for its therapeutic benefits and heals sore muscles, stress, and other health problems miraculously. Epsom salt has no side effects and though it is completely different from table salt, it is called salt due to its structure and appearance. Epsom Salt gets readily dissolved in water and is preferably mixed in hot water for enjoying a rejuvenating and stress-relieving bath. The natural cleansing and exfoliating properties of this ingredient enable you to use it for making soaps, skin cleansers, and face scrubs of various types.
Epsom Salt consists of magnesium, sulfur, and oxygen. It also occurs naturally in saline springs and is also added to aquariums to maintain the level of magnesium in them. Epsom Salt can be made by using sulfuric acid, magnesium carbonate, and some other compounds, we prefer obtaining it through natural sources. As a result, our Epsom salt is much purer, skin-friendly, and compatible with natural skin care ingredients. You will also find Epsom salt in many hair care formulas and conditioners due to its ability to scrape excess oils from your scalp and hair.
Epsom Salt Uses
Relaxing Bath
Mix organic Epsom salt in lukewarm water can be used for stress and pain-relieving bathing sessions to knock off the joint pain, dry skin, and muscular aches from the body. This relaxing bath also brings in a calm and comforting feeling. It also uplifts the mood and improves the sleep cycle.
Marine Aquarium
Maintain the magnesium concentration, an appropriate amount of Epsom salt is added to a marine aquarium. The imbalance of magnum content in the solution, the alkalinity concentrations make it difficult to stabilize ions in the water and prevent the spontaneous precipitation of magnesium sulfate.
Agriculture
Natural Epsom salt is added to increase magnesium or sulfur content in the soil so magnesium-hungry crops like potatoes, tomatoes, carrots, etc., can grow easily. It also helps to neutralize the pH neutral level of the soil. Spraying the solution of water and this salt help to grow lush and green plants.
Sunblock
Epsom salt powder acts as sunblock against Harmful UV Rays, sun damage, with the solution of magnesium sulfate and water can be sprayed on sun-baked skin for instant relief. This bitter salt has potent anti-inflammatory properties, which help relieve the skin from symptoms of sun damage like sunburn, itchiness, redness, and even swelling.
Skincare Products
Antibacterial and anti-fungal properties of Epsom salt are used to make skincare products like scrubs, lotions, toners, face washes, etc. In addition, this product is effective for naturally cleansing the skin and exfoliating the impurities and dead skin cells. Magnesium sulfate Epsom salt also prevents acne, pimples, and breakouts.
Haircare Application
Epsom salt's boundless benefits and properties can be used to make different hair care products like shampoo, conditioner, and even hair masks. It helps to soothe the irritated and itchy scalp instantly. This Salt is also used in many hair styling products as it protects the hair from harmful chemicals and heat-producing styling tools.
Epsom Salt Benefits
Relieve Stress
Fine epsom salt has a therapeutic effect that may help to reduce stress and anxiety. This salt has a neuroendocrine response that eases the symptoms of stress like hyperventilation. It also treats health issues like anxiety, fatigue, headache, which are caused due to the deficiency of Magnesium.
Eases Joint and Muscle Pain
Epsom salt's anesthetic and analgesic properties reduce joint and muscular pain. The warm relaxing bath using this mineral can help to soothe and hasten recovery from muscle pain, soreness, or even injury. It also effectively relieve joint pain in the shoulders, neck, back, as well as skull.
Treats Skin Issues
Epsom salt exhibits analgesic and anti-inflammatory properties that can get rid of acne, dull skin, and various skin issues. It also treats skin conditions like psoriasis, sunburn, rashes, eczema, etc. The ability of salt to cleanse your skin pores thoroughly minimizes various skin-related issues.
Epsom salt's exfoliating properties help you eliminate toxins, excess oil, dirt, dust, and other impurities from your skin. The coarse crystalline texture of this salt is effective for removing dead and dry skin cells, blackheads, and whiteheads. Therefore, it proves to be a good ingredient in facial scrubs, body scrubs, shower gels, etc.
Soothe Sore Feet
Composition of different chemical compounds present in magnesium sulphate epsom salt helps eliminate the unpleasant foot odor. It also helps you get rid of skin conditions on foot, like scaly skin and fungus. Dipping the feet in hot water and this salt can help exfoliate the dead skin, leaving them softer feet.
Relieve Constipation
High magnesium content in plain epsom salt helps reduce inflammation in internal organs and improve digestion. It also helps ease bowel movement by increasing water in your intestines, which helps soften the stool and makes it easier to pass. It has a potent laxative effect which provides relief from occasional constipation.
Product Specifications
| | |
| --- | --- |
| Raw Material Source: | Naturally occurring Magnesium, Sulfur, and Oxygen. |
| Manufacturing Process: | Epsom salt is obtained by reacting magnesium carbonate with sulfuric acid. |
| Chemical Composition: | N/A |
| Chemical Formula: | MgSO4 |
| CAS Number: | 7487-88-9 |
| IUPAC Name: | Magnesium Sulfate |
| INCI Name: | Epsom Salt |
| Molecular Weight: | 120.366 grams/mole |
| Specific Gravity: | N/A |
| Boiling Point: | 330 °C |
| Flash Point: | 32 °C |
| Odor: | Faint bitter odor |
| PH Level: | 5.5 to 6.5 |
| HLB Value: | N/A |
| Color: | Transparent |
| Grade Standard: | Technical Grade |
| Shelf Life: | 24 months |
| Purity (%): | 99% |
| Form: | Crystalline form |
| Alternative Names: | Magnesium Sulfate |
| Solubility: | Yes |
| Applications: | Cosmetic, Personal Care |
CAUTION: It is meant for external purposes. Keep it away from the reach of your kids and avoid direct contact with eyes.
Packaging Sizes
Please Note: The packaging shown above is a General Representation of the various sizes and types of packaging available for this product. Not all sizes and types of packaging for this product maybe available at all times.
Buy Epsom Salt Online in USA at Low Prices
VedaOils is the leading Manufacturer, Distributor & Wholesaler supplier of Epsom Salt. We offer the best Epsom Salt, which can be used for different purposes such as Cosmetic Products. Our Epsom Salt are chemical-free, soot-free, and smoke-free. Our Epsom Salt are in great demand in UK, Australia, Canada and several other countries.
We ensure you that our Epsom Salt are completely free from any additives. We do not use any coloured tints, preservatives, fragrances, or chemically infused ingredients to manufacture our Epsom Salt. We at VedaOils offer you the finest quality Epsom Salt at a discounted price. Our Epsom Salt contains perfect ingredients that will inspire you to create skincare and haircare products.
We follow high-grade packaging standards and quality-check measures that will ensure that you enjoy the premium quality Epsom Salt at your doorstep. Furthermore, we offer our packages of Epsom Salt Online in different quantities (5 oz, 2 oz,16 oz,5 lb,25 lb & 100 lb) so that you can purchase them as per your needs. You can even buy them for commercial purposes as we are offering heavy discounts on bulk purchases. You can check Epsom salt prices at vedaoils online store.