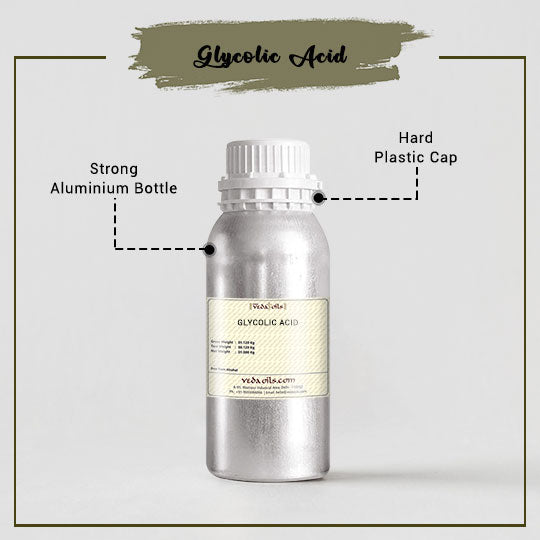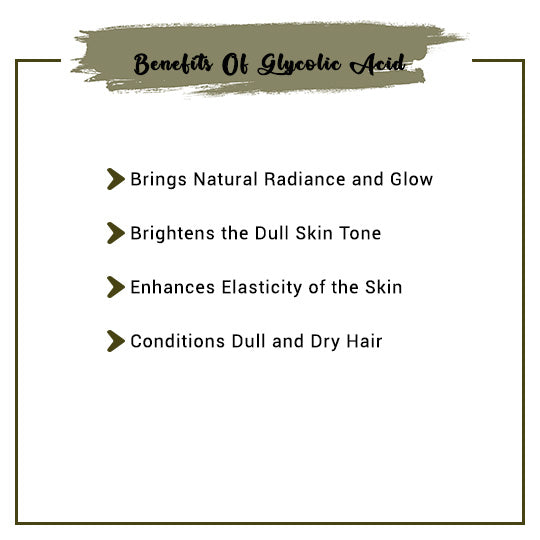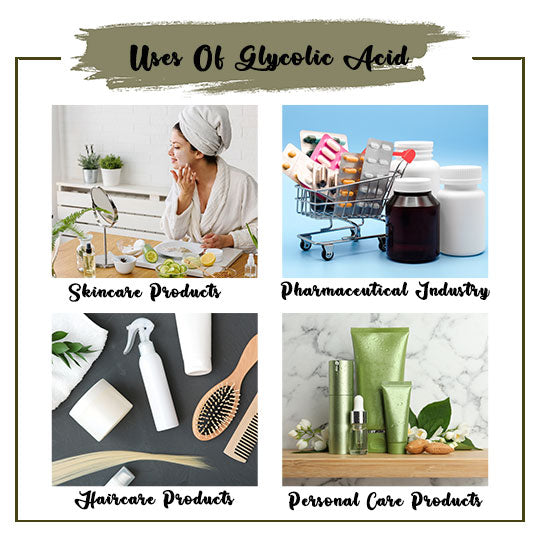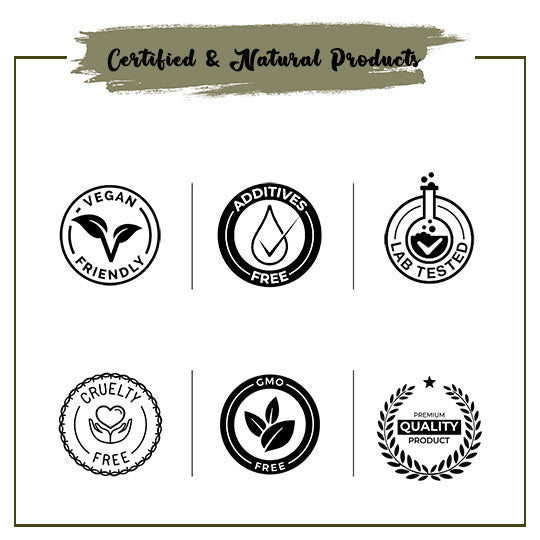 Our Certifications
Glycolic Acid
Glycolic Acid is one of the important acids of the AHAs (Alpha Hydroxy Acids) family. It is either found naturally or can be prepared synthetically in a lab. It is mostly used in skincare products due to its moisturizing properties and popularly known as hydroacoustic acid. It is a clear liquid of soft yellow color and has a peculiar odor as well.
It can be formulated to be used as an exfoliant and also could bind with water molecules. Moreover, its molecules are so tiny that they can easily penetrate your skin pores. As a result, it proves to be more effective than other types of Glycolic Acid.
Glycolic Acid contains 70% of concentrate and 30% of water and is a Grade CG acid. The pH level might vary between 0.5 to 2, and it can be seamlessly dissolved in water. You will also find it in many OTC (Over the Counter) products, and it is also naturally found in fruits. Glycolic Acid also obtained from sugarcane, and used in many DIY beauty products these days.
Glycolic Acid Benefits
Used in Cosmetics Products: It is a multipurpose cosmetic ingredient that provides many benefits to the skin. The process of regeneration of skin cells also fastens upon its application.
Skin Tightening: Glycolic Acid boosts the production of collagen that ensures that your skin remains elastic and firm. Therefore, Glycolic Acid used to restore the natural plumpness of your skin.
Restore Skin Elasticity: Skin care products that contain Glycolic Acid can prove to be more than useful for restoring the natural youthfulness of the skin.
Anti-aging Properties: It not only improves the tone and texture of your skin but also reduces fine lines and wrinkles. Moreover, Glycolic Acid used to reverse the harmful effects of sun damage and pollution.
Acts as Detoxifier: Glycolic Acid is an excellent exfoliator, it can be used to detoxify the skin. Also, it brightens up your complexion and even minimizes the sizes of the skin pores.
Skin Moisturizer: By minimizing the pores, it prevents impurities like sweat and dirt from reaching inside which might be one of the main reasons for issues like pimples, acne, breakouts, etc. It also has the potential to lighten the marks of scars, blackheads, cuts, etc.
Even Skin Tone: You can even use it to provide an even tone to the skin that has become uneven due to pigmentation. However, glycolic acid cannot prevent scars and can only be used to fade its marks.
How to Use Glycolic Acid?
The concentration level of Glycolic Acid can be up to 20%. If you are making peels that have 10% of AHA then you should use around 14.5% and for making peels that comprise 5% AHA then you can use around 7.2% of this acid.
While making homemade peels, you should not use more than 20% of AHAs, i.e. equal to around 28.5% of Glycolic Acid. The concentrated form of this acid should not be used as it can result in irritation or inflammation due to its highly acidic nature.
Store it in a cool and dry place in such a way that sunlight doesn't reach it directly. With proper storage, it can last up to 1 year. Remember that it is only meant for external application. Also, use sunscreens or any other skin protectant while using glycolic acid as one of the cosmetic raw materials in skincare products. The skin gets highly sensitive during its use.
Test the pH level of the final product after using it as it can make it highly acidic. Ideally, the pH level can fall between 3.5 to 5. Also, after adding glycolic acid in OTC products, they might separate due to low pH. Therefore, you might have to add a stabilizer with it.
Product Specifications
| | |
| --- | --- |
| Raw Material Source: | Monochloroacetic Acid |
| Manufacturing Process: | olten Monochloroacetic Acid is hydrolyzed at 90 to 130-degree Celsius by using sodium hydroxide (50%). |
| Chemical Formula: | C2H4O3 |
| CAS Number: | 79-14-1, 7732-18-5 |
| IUPAC Name: | Glycolic Acid, H2O |
| Molecular Weight: | 76.05 g/mol |
| Boiling Point: | 100°C |
| Flash Point: | 300 °C |
| Odor: | Odorless |
| PH Level: | 3 to 4 |
| HLB Value: | N/A |
| Color: | White |
| Grade Standard: | Technical Grade |
| Shelf Life: | 24 months |
| Purity (%): | N/A |
| Form: | Liquid |
| Alternative Names: | Glycollic acid, Glycol acid. |
| Solubility: | Soluble in Water,Alcohol, Acetic Acid |
| Industry: | Cosmetic, Personal Care, Skincare |
CAUTION: This product is only meant for external application. Therefore, avoid using it internally and not use it if you are suffering from any skin ailments.
Q: How do I use Glycolic Acid at home?

You can use Glycolic Acid in cosmetic products or incorporate it in homemade face washes, toners, and moisturizers. Glycolic Acid restores the natural youthfulness of the skin and works wonders on your skin.