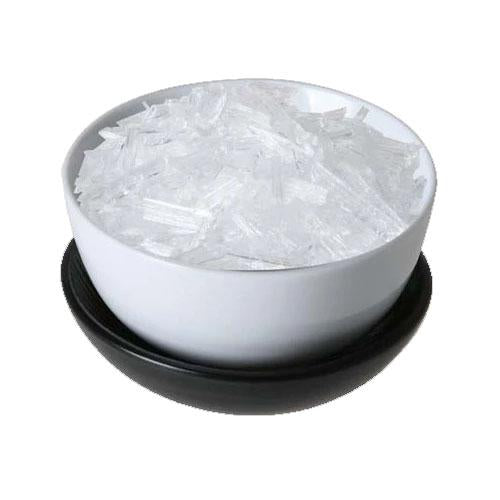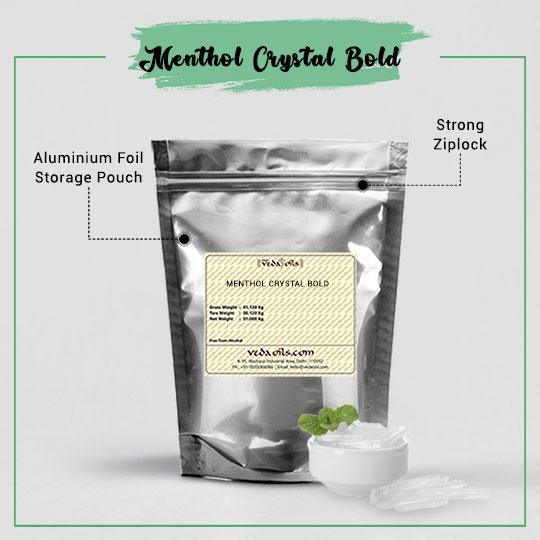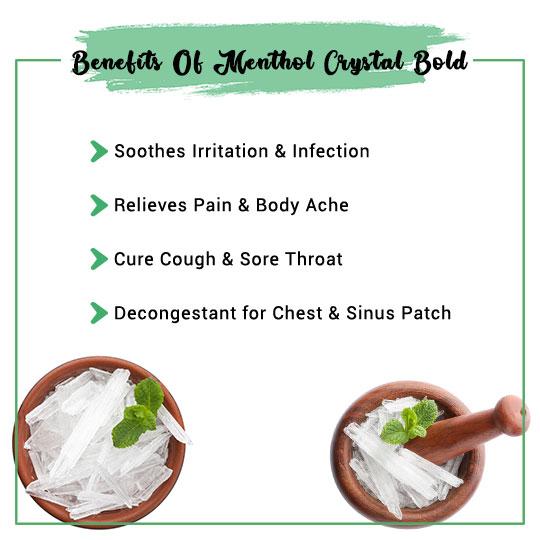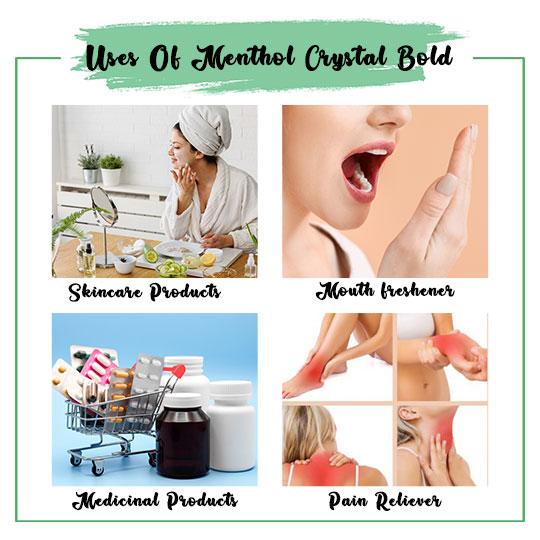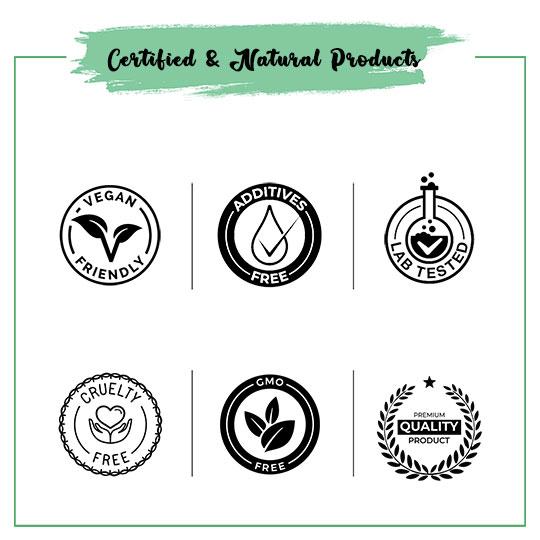 Our Certifications
Menthol Crystal Bold
Menthol Crystals are made from the mint essential oil and are 100% pure and chemical-free. Menthol Crystals does not contain phosphates and other additives that make it safe for regular use.
They are used to add a minty fragrance and freshness to skincare and hair care products. However, since they are of edible grade, you can also add them to toothpaste, mouthwashes, and other personal care products as flavoring agents.
Edible grade menthol crystal bold is clear white to slightly foggy in appearance and has a fresh and minty fragrance. They can be dissolved in both oils and alcohol. The melting point of Menthol Crystals ranges from 42 to 44-degree.
We provide only premium quality products to deliver the best results to our customers. Menthol Crystals are of USP grade and can be used for making inhalers, analgesic balms, mouth fresheners, perfumes, and cough syrups.
Menthol Crystals prove to be one of the multi-purpose ingredients in both the medical and cosmetic industries. Due to their soothing and anti-inflammatory properties, these crystals are used in ointments and lotions that are formulated to heal joint pain and muscle stress.
Menthol Crystals Uses
Pharmaceutical Products
Menthol crystals have been a vital component of medical practices since ancient times. Its strong odor makes it a primary ingredient of pharma products formulated to cure ailments like congestion, cough, dry throat, etc. Medicinal products containing menthol manages to control plague or kills bacteria and alleviate skin problems.
Mouthwash
Menthol Crystals possess antibacterial properties that can be utilized to increase the cleansing properties of your toothpaste and mouthwashes. Its minty fragrance provides relief from bad breath. It is also a very popular ingredient for making flavored food items like chewing gums, candies, and mouth fresheners.
Pain Relief Spray
Menthol crystal's potent analgesic properties are used to make topical pain relief spray for body aches and pains. These sprays can also be used on sprains, muscle cramps, sore joints, etc. These pain-relieving spritz can be used alone or combined with other ingredients with pain-alleviating properties for instant relief.
Aromatherapy
Distinct aroma of Menthol crystals is popularly used in aromatherapy, which promotes easier breathing and relieves nasal congestion. It also soothes problems like dry cough, headache, and sinus discomforts. Aromatherapy using menthol also helps to uplift the mood and stabilize the rough and bumpy emotions.
Haircare Application
Excellent hair-benefiting properties of Menthol Crystals are used to make hair care products like shampoo, conditioners, and hair masks. These products effectively remove dandruff and product buildup, stimulate blood circulation, and encourage longer, stronger, and more lush hair.
Bug Repellent
Pure Menthol Crystals are effective for repelling bugs, larvae, and mosquitoes. It also protects against insect bites. These bug-repellent provides a cooling sensation on the skin when applied topically. It can also be burnt in your living space so that the bugs and insects can be warded off.
Menthol Crystal Benefits
Menthol crystal provides a cooling effect on the body, and it also reduces the inflammation from that sore throat. When applied topically on the skin, it soothes the scrapes, cuts, and bruises by reducing irritation and inflammation. Inhalers using these crystals are used to treat chronic inflammatory disorders like bronchial asthma and allergic rhinitis.
Treats Congestion
Chest and sinuses patch, cream, nose inhaler, etc., use Menthol Bold Crystals because it is an excellent decongestant. The naturally occurring Mehol has cold receptors, which provide relief from upper airway congestion and symptoms related to it. Menthol can also reduce the ailments related to dyspnea and also provides relief from headaches.
Ease Muscle Soreness
Potent analgesic properties present in Menthol Bold crystals are effective for relieving minor body aches and pains. Many cold patches, balms, ointments as well as creams use the fine menthol crystals because it helps to treat sprains, muscle cramps, sore joints, headaches, etc. Sometimes, it is also used to ease the pain due to menstrual cramps.
Relaxe Your Body
Menthol Crystals are a powerful vasodilator that helps in hair growth by stimulating blood circulation in the scalp. It also opens up the hair follicle, which leads to faster hair growth. Moreover, these fine crystals of menthol hold potent antibacterial properties, which are beneficial for preventing hair loss that is caused due to fungal or bacterial infection in the scalp.
Repels Bugs and Insects
Clear Menthol crystals are useful in several aromatherapy products like inhalers, diffusers, balms and even relaxing bathing sessions. The minty fragrance of these fine grains is used to relax the mind and body by calming down anxiety, stress, restlessness, and even nervousness. Its clear aroma also treats feelings of vomiting and nausea due to motion sickness.
Promotes Hair Growth
Methylated crystals act as a natural pesticide for the gardens and farms because it prevents moths, insects, and pests from causing any damage. Burning menthol crystals can help to repel bugs and insects of every other kind. Its distinct chemical and sensory properties have incredible insect control capabilities and other natural bug-fighting abilities.
Product Specifications
| | |
| --- | --- |
| Raw Material Source: | Peppermint Oil |
| Manufacturing Process: | Crystals obtained from this method are then filtered by using the filtration process. |
| Chemical Formula: | C10H20O |
| CAS Number: | 89-78-1 |
| IUPAC Name: | N/A |
| INCI Name: | Mentha arvensis |
| Molecular Weight: | 156.26 g/mol |
| Specific Gravity: | 0.89 g/mL |
| Boiling Point: | 214.6 °C |
| Flash Point: | 93 °C |
| Odor: | Strong |
| pH Level: | 5-9 |
| HLB Value: | N/A |
| Color: | Clear or White |
| Grade Standard: | Edible Grade |
| Shelf Life: | 24 months |
| Purity (%): | 99% |
| Form: | Waxy, Crystalline Substance |
| Alternative Names: | Peppermint crystals, Mint, Putiha, Pudina |
| Solubility: | Yes |
| Applications: | Lotions, ointments, balms, cooling gels, scalp treatment, skin protection products. |
CAUTION: Avoid contact with eyes as it might cause severe irritation. Also, if you are suffering from skin allergies or ailments then it is better to consult a skin specialist before using the menthol crystals.
Packaging Sizes
Please Note: The packaging shown above is a General Representation of the various sizes and types of packaging available for this product. Not all sizes and types of packaging for this product maybe available at all times.