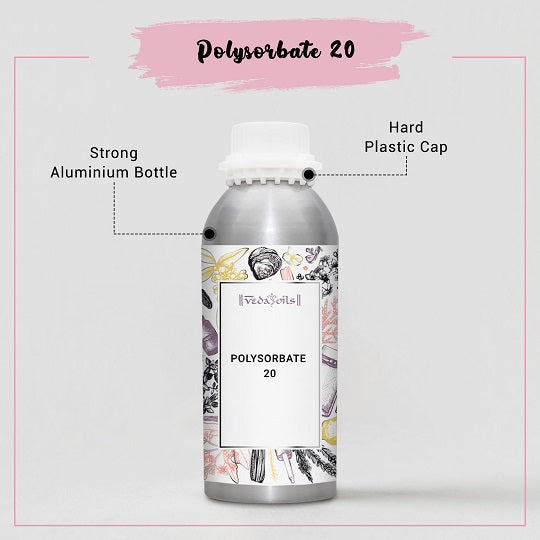 Our Certifications
Polysorbate 20
Polysorbate 20, often known as TWEEN20, is an excellent in-betweener for other emulsifiers to help cover a variety of oil in water and water in oil emulsions. It works incredibly well in water to aid in the solubilization of essential oils to eliminate the need to shake the watery substance and essential oil products prior to use. It can also be used to change viscosity.It contains sorbitol's laureate esters made from condensing the monoester with ethylene di-oxide. It is an odourless yellow liquid that dissolves in water Polysorbate 20 is also used as a wetting agent in food items.
It aids in infusion of essential oils with cold cream, balms, baby lotions, baby oils, cleansers, makeup removers, lotions and creams. Commonly used addition, polysorbate 20 serves as an adjuvant, emulsifier, defoamer, dispersant, surfactant, wetting agent or stabilizer in your cosmetic products. It is also used as a solubilizer in industrial applications. Its cleansing properties make it a key ingredient in cleansers and detergents. Polysorbate 20 is a skin-friendly agent that can be used in concentrations ranging from 2 to 10% in skincare and cosmetic applications.
Polysorbate 20 Uses
Skincare Products
Polysorbate 20 is used to improve the viscosity or thickness of skin care products. It is also used as a stabiliser in these products because of its ability to nullify static charges to help skin glow.
Hair Care Products
When used in hair styling applications like hair gels, shampoos, etc. it enhances their spreadability. Therefore, it helps the hair care products to reach all the parts of your hair and scalp easily.
Pharmaceuticals
Polysorbate 20 is mainly used as a suspending agent and an emulsion stabiliser in pharmaceutical products. It is also incorporated in ophthalmic applications because of its lubricating properties.
Food Industry
Polysorbate 20 is primarily used as a wetting ingredient in mouth drops. It increases the ability of ingredients like mint to spread more easily which eventually enhances the overall flavour or products like ice drops.
Room Sprays
Polysorbate 20 is mixed with distilled water to make room sprays. It can also be combined with fragrances to create refreshing and rejuvenating room fresheners and sprays with positive vibes .
Bath care products
The soothing properties of Polysorbate 20 make it an ideal ingredient in bath care products. It also makes them more efficient by increasing their viscosity and spreadability with bath care products.
Polysorbate 20 Benefits
Emulsifier
Polysorbate 20 helps oil and water to combine together. Therefore, it is a perfect ingredient for products like room sprays and face toners, which are highly used in perfume sprays, deodorants, and other liquid-based applications.
Solubilizer
Polysorbate 20 can be used to dissolve essential oils because of its powerful solubilizing properties. It can also dissolve aromatic compounds because of which it is highly used in perfume sprays and deodorants.
Stabiliser
Polysorbate 20 stabilises emulsions containing water, oil, and other compounds. It blends oil and water together and is also compatible with natural essences and extracts. It prevents the products from getting rancid.
Dispersing Agent and Anti-static Thickener
Polysorbate 20 is used as a dispersing Agent and anti-static thickener as it does not allow static charges to form. There is no need to use alcohol when you use Polysorbate 20 as a dispersing agent.
Retains fragrance
Polysorbate 20 exhibits fragrance retention properties. Due to these properties, it is used in formulas in which fragrance oils are mixed with other ingredients. It also improves the overall texture and scent of the final products.
No side effects
Using Polysorbate 20 does not have any side effects on the skin. It is a natural product as it is obtained from coconut oil. Moreover, it does not cause any skin irritation or sensitisation when applied with help to your skin.
Product Specifications
| | |
| --- | --- |
| Product Name: | Polysorbate 20 |
| Raw Material Source: | Sorbitan, Monododecanoate, Poly(Oxy-1,2-Ethanediyl) Derivatives, Water, 1,4-Dixoane, Oxirane, Hydrogen Peroxide |
| Manufacturing Process: | Ethoxylation |
| Chemical Formula: | C58H114O26 |
| CAS Number: | 9005-64-5 |
| Odor: | Mild characteristic odor |
| Color: | Pale yellow clear to hazy viscous liquid |
| Grade Standard: | Technical Grade |
| Shelf Life: | 24 months |
| Form: | Liquid |
| Solubility in Water: | Soluble |
| Applications: | Cosmetic Products, Skincare & Haircare |
| Shelf Life: | 24 months |
| COA: | |
Packaging Sizes
Please Note: The packaging shown above is a General Representation of the various sizes and types of packaging available for this product. Not all sizes and types of packaging for this product maybe available at all times.
Shop Polysorbate 20 Online at Wholesale Prices
VedaOils is one of leading Wholesale suppliers, manufacturer, and exporter of Polysorbate 20 in USA. Vedaoils manufactures highest quality vegan propylene glycol solution cosmetic that does not compromise with your health and beauty. Our Cosmetic Ingredients does not contain any harmful preservatives, fragrances, additives and filler. It is good and completely safe for skin. Order Organic raw ingredients at a low price for Industrial Personal end products.
We employ numerous tests and quality checks to ensure that only Premium-quality Polysorbate 20 (Solubilser) reaches you. The highest quality and packaging standards are employed to deliver desirable results on usage. Also, our portal uses a secure payment gateway such as Visa, Mastercard to safeguard your transactions. Order Polysorbate 20 (Solubilser) online in Bulk Quantity at Wholesale different packages (100g, 500g, 1kg) so that you can order and use them as per your needs. It is available in solution form which is good for skincare and haircare.
We export our Polysorbate 20 (Solubilser) to the US, Canada, UK, Australia, and worldwide. Our products follow the highest standards when it comes to quality and purity. Your orders are delivered to your doorstep, so you don't have to worry about going outside. We assure you that you will not regret choosing us! We also deliver the products worldwide using our logistic partners DHL, FedEx, Blue Dart, India Post, etc. Get great cashback, combo offers, deals and discount offers while buying natural propylene glycol solution online from VedaOils store.
Frequently Asked Questions