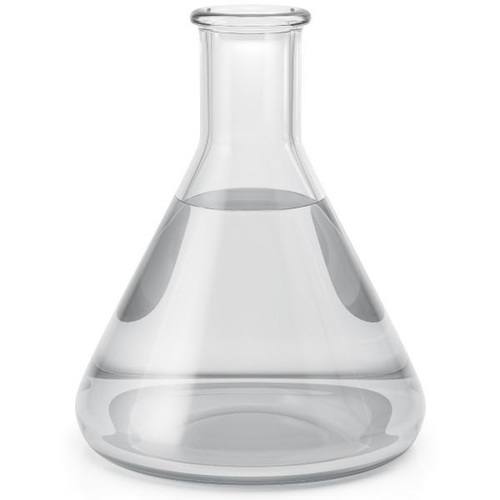 Our Certifications
Propylene Glycol
Propylene Glycol is a diol that belongs to two alcohol groups. It is produced in labs as well as chemical plants for the production of polymers. In industries, Natural Propylene Glycol Solution is produced from propylene oxide whereas in labs it is prepared by synthesizing S-Propanediol through fermentation methods. This USP-grade aqueous solution is clear, odorless, slightly viscous, and tasteless.
Molecular formula of vegan propylene glycol solution is CH3CH(OH)CH2OH. It is soluble in a broad range of products including water, ethanol, acetone, etc. The nature of this compound is very stable which makes it non-volatile and non-irritating. It is a hygroscopic liquid that can be used as an organic solvent and diluent in many pharmaceuticals as well as other industrial applications. Propylene glycol liquid is used widely in many cosmetic and skin care products as it is an effective humectant and it also prevents the cosmetic products to freeze at a low temperature. This compound is also a key ingredient in cosmetics due to its strong sensitizer capabilities. Its low viscosity formulation makes it perfect for malleable and flexible products. Organic Propylene Glycol has the ability to penetrate into the skin which makes it an ideal ingredient for skincare products.
Propylene Glycol Uses
Haircare Products
Used in hair care products natural propylene glycol solution like shampoo, conditioners, and hair masks as it hydrates hair without making it feel sticky. This active agent helps shampoo to bind with impurities and dirt from hair and then eventually wash them away. It is non-toxic and completely safe.
Pharmaceutical Application
Natural liquid propylene glycol used by chemical and pharmaceutical industries as antifreeze agent. It is widely used as drug solubilizer in topical, oral, and injectable medications due to safe formulation. Many ointments, creams as well as soothing salves contain this medicinal compound.
Cosmetic Formulations
Propylene glycol used in cosmetic Formulations to create products like foundations, lipsticks, makeup cleansers, face wash, cleansers, etc. Stable and non-volatile nature of this compound is safe for application on skin as well as hair. It can also be used to stabilize emulsions and balance final products.
Lip Care Products
Potent humectant and moisturizing properties of propylene glycol solution used for making Lip care products like lip balms, Lip gloss, and lipsticks hydrates lips. It also prevents chapping and drying of lips and makes them soft and crack-less. Its anti-free ability makes lip products stable.
Anti-Acne Products
Anti-acne serums, creams, and lotions use organic propylene glycol to lessen appearance of acne marks and spots on skin. With continuous use, It helps to vanish spots permanently. These anti-acne products are also effective in treating active acne and pimples on the skin.
Skincare Products
Moisturizers, creams, lotions, serums, face wash and other skincare products use liquid propylene glycol as it helps to replenish skin's natural moisture levels. It seals that hydration to make skin healthy and supple. These products also maximize radiance and brightens skin tone.
Propylene Glycol Benefits
Acts Solvent
Used as a solvent to blend and dissolve other ingredients because of natural propylene glycol strong binding properties. Due to presence of this compound, spread ability of the products can be increased effectively when products are in formulation phase.
Emollient & Soothing Properties
Active ingredients present in vegan propylene glycol solution helps in generation of new skin cells which makes skin baby soft. Its emollient properties improve moisture content of skin and it also constructively soothes irritated and inflamed skin.
Retain Moisture in Skin
Minimizes loss of water from the skin by building a protective layer on the outer surface of skin which helps to helps retain the moisture of products into the skin. Organic liquid propylene glycol powerful humectant effectively prevents water loss, making skin soft and smooth.
Pulls in Hydration
Used at low concentrations propylene glycol effectively binds water and pulls in hydration to outermost layer of skin which in turn helps to provide hydrated, dewy, and glowy appearance to skin. This also brings out natural radiance and youthfulness to skin.
Anti-Aging Properties
Organic propylene glycol solution helps to moisturize skin and retain hydration, as a result, it slows down skin aging process. Its humectant property curtails visible signs of aging like wrinkles, fine lines, age spots, dryness, etc.
Softens Hair
Natural propylene glycol is strong humectant, which makes it effective for carrying water-based ingredients into scalp. When used in hair care products, it works effortlessly in softening and detangling hair. It also prevents dryness and fizziness of hair.
Product Specifications
| | |
| --- | --- |
| Product Name: | Propylene Glycol |
| Raw Material Source: | Propylene Oxide that is derived from the blend of hydrogen peroxide and propylene. |
| Manufacturing Process: | Propylene Oxide is hydrolyzed (Non-catalytic process) to obtain a combination of glycols (mono, di, and tripropylene glycols). |
| Chemical Formula: | C3H8O2 |
| CAS Number: | 57-55-6 |
| IUPAC Name: | propane-1,2-diol |
| INCI Name: | Propylene Glycol |
| Molecular Weight: | 76.09 g/mol |
| Specific Gravity: | 1.036 |
| Boiling Point: | 188.2 °C |
| Flash Point: | 01°C c.c. |
| Odor: | Odorless |
| PH Level: | N/A |
| HLB Value: | N/A |
| Color: | Colorless |
| Grade Standard: | Industrial Grade |
| Shelf Life: | 24 months |
| Purity (%): | 99% |
| Form: | Liquid |
| Alternative Names: | methyl glycol, and trimethyl glycol |
| Solubility: | Yes |
| Applications: | Propylene Glycol can be added to any skin care product and is also used in hair care applications, soaps that are glycerin based, color cosmetics, etc. |
CAUTION: This product is only meant for external application. Therefore, avoid using it internally, and do not use it if you are suffering from any skin ailments.
Packaging Sizes
Please Note: The packaging shown above is a General Representation of the various sizes and types of packaging available for this product. Not all sizes and types of packaging for this product maybe available at all times.
Buy Propylene Glycol at Wholesale Price
VedaOils is one of leading Wholesale suppliers, manufacturer, and exporter of Natural Propylene Glycol in India. Vedaoils manufactures highest quality vegan propylene glycol solution cosmetic that does not compromise with your health and beauty. Our Cosmetic Ingredients does not contain any harmful preservatives, fragrances, additives and filler. It is good and completely safe for skin. Order Organic raw ingredients at a low price for Industrial Personal end products.
We employ numerous tests and quality checks to ensure that only Premium-quality liquid propylene glycol solution reaches you. The highest quality and packaging standards are employed to deliver desirable results on usage. Also, our portal uses a secure payment gateway such as Visa, Mastercard to safeguard your transactions. Order cosmetic powder online in Bulk Quantity at Wholesale different packages ( 3.5 oz, 1.1 lb,2.2 lb,11 lb,22 lb and 44 lb) so that you can order and use them as per your needs. It is available in solution form which is good for skincare and haircare.
We export our Pure propylene glycol to the US, Canada, UK, Australia, and worldwide. Our products follow the highest standards when it comes to quality and purity. Your orders are delivered to your doorstep, so you don't have to worry about going outside. We assure you that you will not regret choosing us! We also deliver the products worldwide using our logistic partners DHL, FedEx, etc. Get great cashback, combo offers, deals and discount offers while buying natural propylene glycol solution online from VedaOils store.
Frequently Asked Questions