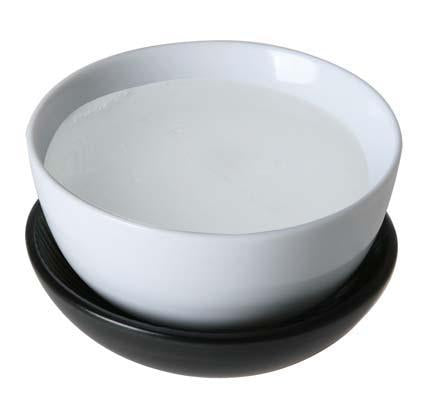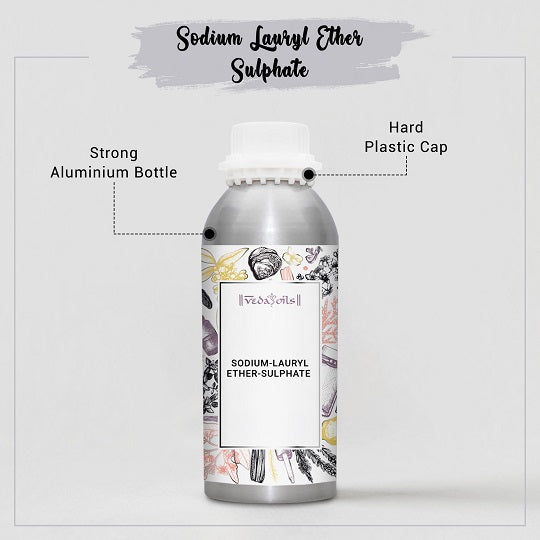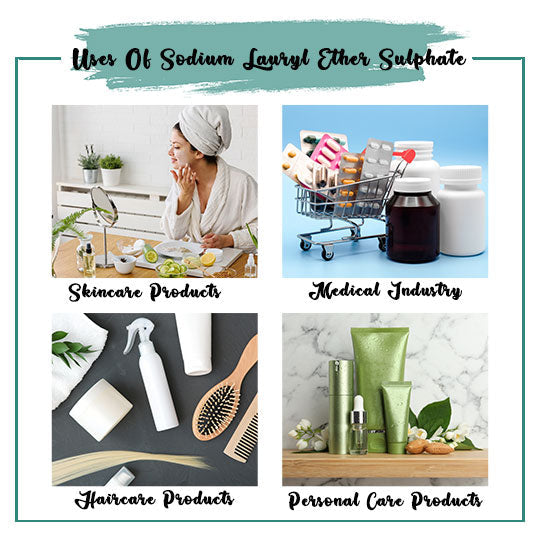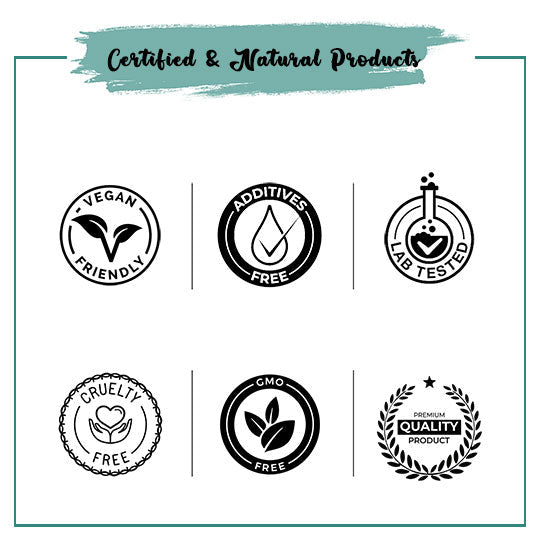 Our Certifications
Sodium Lauryl Ether Sulphate - SLES
Sodium Lauryl Ether Sulfate, commonly known as sodium alkyl ether sulfate, is a widely used shorthand of sodium laureth ether sulfate. SLES is an anionic detergent and an effective surfactant that can be found in a variety of personal care, cosmetic, and hair care products. It's made by ethoxylating Sodium Lauryl Sulfate, a volatile, fuming chemical. SLES is a foaming agent that is both affordable and effective.
Sodium Lauryl Ether Sulphate is noted for its outstanding detergency, as well as its ability to emulsify and foam. It's also simple to dissolve in water, with good hard-water resistance and great biodegradation capabilities. This product is a great decontaminant, emulsifier, and dispersant, with the best wetting and solubilizing properties in the industry along with high-quality foaming property.
It has strong solubility in organic and inorganic environments, thickening properties, and a wide range of hard water compatibility. SLES is known to cause minor to moderate skin and eye irritation. Dishwashing liquids, shampoos, bubble bath liquids, hand washing liquids, and other liquid detergents include Sodium Lauryl Sulphate. SLES has demonstrated great competence in the removal of heavy dirt in washing powders and detergents.
This product has been shown to be effective in the textile printing and dyeing sector, as well as in the petroleum and leather industries. It works as a lubricant, a dyeing agent, a cleanser, a foaming agent, and a degreaser. Wetting agent formulas, liquid detergents, cleansers, shampoos, and laundry detergents have all lately employed this substance. Sodium lauryl ether sulfate, often known as Sodium Laureth Sulfate, is a detergent and surfactant used in shampoos and toothpaste. In personal care products, sodium lauryl sulfate can be used for its high-quality lathering capabilities.
Sodium Lauryl Sulfate or Sodium Lauryl Ether Sulfate, both of which are "coconut derived," may be present. This is due to the fact that one of the components used to make them, lauryl alcohol or dodecanol, may be found in coconut and palm oils. Finally, sodium lauryl ether sulphate is a well-known substance that is widely used for its emulsifying properties as well as its performance as a detergent and cleaner.
Sodium Lauryl Sulphate Uses
Emulsifier: Sodium lauryl ether sulfate's highly efficient emulsifying characteristics are useful in the preparation of cleansers and formulations that require high-quality emulsifying agents.
Surfactant: Sodium lauryl ether sulfate is a high-performance surfactant. When utilized in a variety of formulations, it aids in product wetting and spreading, allowing for better penetration.
Lubricant: SLES can be used as a lubricant that can be used in moisturizers and has efficient and effective lubricant characteristics. It aids in the lubrication of your skin, minimizing moisture loss and producing smooth, supple skin.
Cleanser: Sodium laureth ether sulfate is a very effective cleanser. It can also prepare the skin and facial cleansers and is a best-in-class foaming and lathering agent.
Nourishes Hair: Sodium lauryl ether sulfate is extensively utilized in the preparation of hair care and styling products because it makes your hair silky and smooth. It also thickens your hair and gives it a gorgeous sheen and natural shine.
Degreasing Agent: SLES is an effective degreasing agent that can be utilized as a component in the formulation of detergents and cleansers. It effectively removes heavy grime and grease stains.
Sodium Lauryl Sulphate Benefits
Shaving Creams: Sodium Lauryl Ether Sulfate can be used to make high-quality shaving creams since it lathers quickly and softens facial hair for a smooth shave. Aside from that, it's gentle on the skin and helps to replenish it after shaving.
Lip Balms: Sodium lauryl ether sulphate can be utilized to make effective, high-quality lip balms that are best in class. It hydrates and moisturizes your dry, chapped lips, giving them a fuller, suppler appearance.
Hair Styling Gels: The best ingredient in the preparation of top quality hair styling gels for both men and women is sodium lauryl ether sulfate. It avoids flaky residues by maintaining the natural oils in your hair, giving them a lustrous appearance.
Toothpastes: Sodium laureth ether sulfate can be utilized to make multi-action toothpaste that is best in class. It cleans and whitens your teeth, resulting in a gleaming sheen. This solution cleans teeth, prevents cavities, eliminates plaque, and supports gum health.
Bubble Bath: Sodium lauryl ether sulfate can be used to make high-quality bubble bath products that are suitable for all skin types. By exfoliating and eliminating impurities, it helps clean, degrease, and hydrate the skin, increasing skin brightness. SLES can be employed in the formulation of high-quality face cleansers. This cream treats chapped, flaky, dry, and dehydrated skin by cleansing and moisturizing it. It hydrates your skin while calming, smoothing, and smoothing it.
Frequently Asked Questions