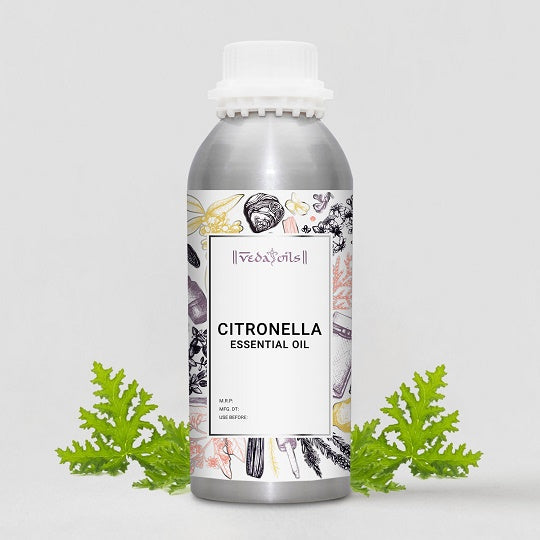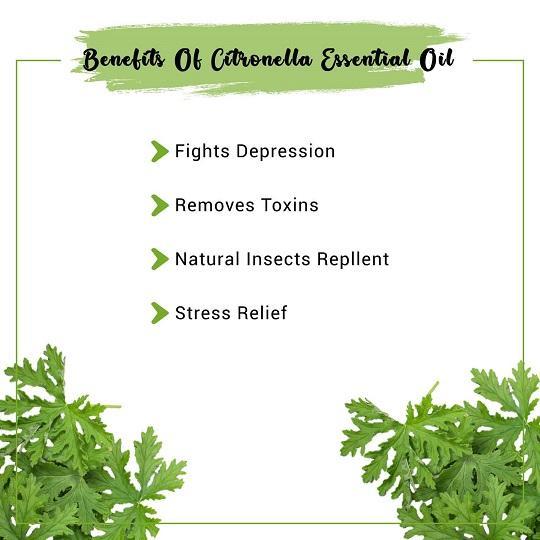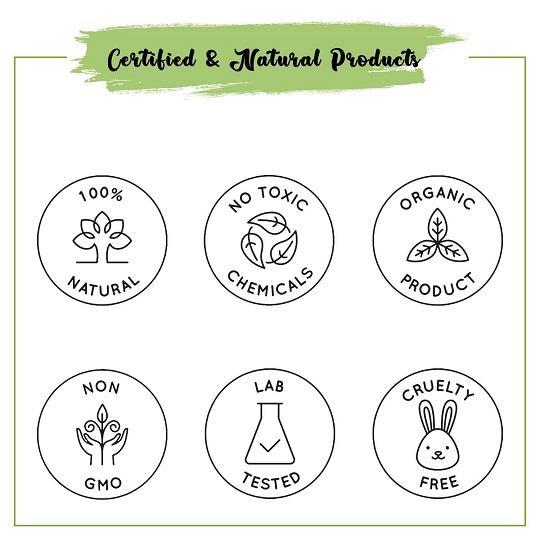 Our Certifications
Citronella Essential Oil
Produced from the Citronella Grass Plant, Citronella Essential Oil offers a range of benefits for your skin and overall well-being. It is known as Citronella as it exhibits a citrusy aroma similar to lemon and other citrus fruits. It is a powerful insect repellent but it can also be used for healing wounds. It protects your hair from external factors like sunlight, pollutants, smoke, dirt, etc. Therefore, it proves to be useful for the overall health of your hair. You may add it to your cosmetic products to improve their Antifungal properties.
The healing properties of Pure Citronella Oil make it an important ingredient in many balms and ointments. It improves the Blood circulation of the damaged area and soothes the pain as well. As a result, it is skin-friendly and safe for your skin. When used topically, it tightens up your pores and cleans toxins and dirt from your skin. This gives you a clear and brighter complexion. It also curbs the harmful bacteria that can damage your skin. However, people who have sensitive skin and those who are allergic to even natural ingredients can check whether it suits their skin or not by undertaking a patch test on their elbow or knee.
Natural Citronella essential oil good for aromatherapy as it has a soothing effect on your mind and body and it helps you to fight fatigue after a hectic day. For that, you will have to diffuse it in an oil or reed diffuser. The powerful yet refreshing fragrance of organic citronella essential oil can relax your mind and uplift your spirits. It is also used sometimes as an ingredient in applications that are formulated to Heal wounds and cuts. Citronella essential oil can be used as a fragrance enhancing agent in soaps, lotions, sprays, and perfumes, etc.
Citronella Essential Oil Uses
DIY Soap & Candles
Fresh lemony scent with a floral touch gives it an alluring fragrance, pour a few drops of Citronella Essential Oil in your DIY Perfumes, Soaps, Scented Candles, Colognes, and body sprays for enhancing the fragrance.
Air Deodorizer
Citronella Oil replaces the foul odor of your rooms with a pleasant odor and kills airborne bacteria that might be harmful to your health. These qualities make it an effective air-deodorizer.
Ease Headaches
You can inhale or diffuse Citronella essential oil if you are suffering from a headache. The invigorating aroma of this oil boosts your spirits and makes you feel energized.
Massage Oil
You can massage Citronella essential oil into your skin to get rid of body aches and spasms. You may also add it to your body lotions and creams for experiencing similar results.
Repelling insects
You can use Citronella oil for repelling insects, bugs, etc. For that, dilute the oil with water and fill it in a spray bottle to use for keeping unwanted insects and mosquitos away.
Aromatherapy Essential Oil
When you diffuse Citronella Essential Oil, it provides relief from muscle spasms, cold symptoms, anxiety, stomach aches, etc. Therefore, it is a multi-purpose essential oil.
Citronella Essential Oil Benefits
Moisturizing
Citronella essential oil injects moisture into your skin and hair follicles. It enhances your skin's ability to gather and absorb moisture and conditions your hair naturally.
Rapid Hair Growth
By improving the circulation to the hair roots, Pure Citronella Essential oil boosts hair growth. It is even used for detangling the hair and for reducing scalp irritation.
Treating Infections
Apply a diluted form of this oil on the part that is infected due to wounds or other reasons. It also fastens the recovery of wounds by eliminating fungi and bacteria that grow on them.
Rejuvenating skin
Apply Citronella Essential Oil after diluting it with a jojoba or coconut carrier oil to rejuvenate your skin. It makes your skin supple, soft, and more elastic after every use.
Skin Treatment
Strong antibacterial properties of Citronella essential oil can be used to treat skin issues like warts, boils, acne, etc. It also makes your skin soft and smoother than before.
Relieves Pain
Natural Citronella oil can be used to relieve pain due to insect bites, skin rashes, wounds, and other skin conditions. This is due to its anti-inflammatory effects.
Product Specifications
| | |
| --- | --- |
| Product Name: | Citronella Essential Oil |
| Botanical Name: | Cymbopogon Nardus |
| CAS#: | 8000-29-1 |
| Country of Origin: | India |
| F.E.M.A #: | 2308 |
| Specific Gravity: | 0.85000 - 0.92000 @ 25°C |
| Optical Rotation: | -5 to 0 |
| Refractive Index: | 1.468 |
| Flash Point: | 85° C |
| Origin of part used: | Grass blades (leaves) |
| Form: | Liquid |
| Shelf Life: | 2 years |
| Packaging Type: | As Per Requirement |
| Consistency: | Thin |
| Solubility: | SOLUBLE IN ALCOHOL AND FIXED OIL. |
| Color | : PALE YELLOW TO BROWNISH YELLOW |
| Odor: | CHARACTERISTIC OF CITRONELLA |
| Major Constituents: | Citronella Grass Blades |
| Blends with: | Lavender,Cedarwood, Clove, and Cypress essential oils |
| COA: | |
| MSDS: | |
CAUTION: It is meant only for external use. Do a patch skin test before applying it to your skin. Dilute it before topical application. Avoid direct exposure to sunlight. Pregnant women should consult a doctor before using it.
Packaging Sizes
Please Note: The packaging shown above is a General Representation of the various sizes and types of packaging available for this product. Not all sizes and types of packaging for this product maybe available at all times.
Buy Citronella Essential Oil Online In USA at Low Prices
VedaOils is one of the leading Wholesale Suppliers, Manufacturer, and Exporter of Citronella essential oil and other Essential oil in USA. We offer the purest forms of essential oils to our customers. No chemicals, additives, or fillers are added to them. They also do not contain any artificial colors, preservatives, and fragrances. Therefore, they prove to be ideal for daily use. Though entirely natural, you should dilute essential oil before using it for topical application as it is highly concentrated.
We employ numerous tests and quality checks to ensure that only Premium-quality and Citronella essential oil reaches you. The highest quality and packaging standards are employed to deliver desirable results on usage. Also, our portal uses a secure payment gateway to safeguard your transactions. Buy Citronella oil from VedaOils online according to requirements at the best competitive prices in the market. You can order Citronella oil for your daily purposes such as dark circles, skin lightening, hair growth, arthritis, digestion, and better oral health. Check out Citronella oil price per Lb, even you can purchase this essential oil in Bulk quantity.
We are one of the largest manufacturers, suppliers, and exporters of top-quality Citronella Essential Oil and other essential oils in USA. We also export our high-quality essential oils to the Canada, UK, Australia and other countries. Our products follow the highest standards when it comes to quality and purity. We assure you that you will not regret choosing us! We also deliver the products throughout the world using our logistic partners DHL, FedEx, USPS, UPS, etc. Do not miss this excellent opportunity to buy chemical-free, fresh, and multi-purpose Citronella oil from VedaOils.
Frequently Asked Questions
Q: Can you diffuse Citronella essential oil?

Yes, it can be diffused for aromatherapy and other purposes.

Q: Can you ingest organic Citronella oil?

No, it is formulated only for topical use.

Q: Which oils blend well with Citronella essential oil?

Citronella oil blends well with Cypress, Lavender, Cedarwood, and Clove essential oils.

Q: Is natural Citronella essential oil good for skin?

Yes, it is good for the skin as it eliminates bacteria and fungi and heals wounds.

Q: Is Citronella essential oil good for hair?

Yes, it is good for hair as it reduces greasiness of hair, prevents scalp irritation, and promotes hair growth.

Q: Is Citronella oil safe for dogs?

No, it can prove to be toxic for your pets.

Q: What does Citronella essential oil treat?

It can be used to treat infections and minor wounds, cuts, and scrapes.