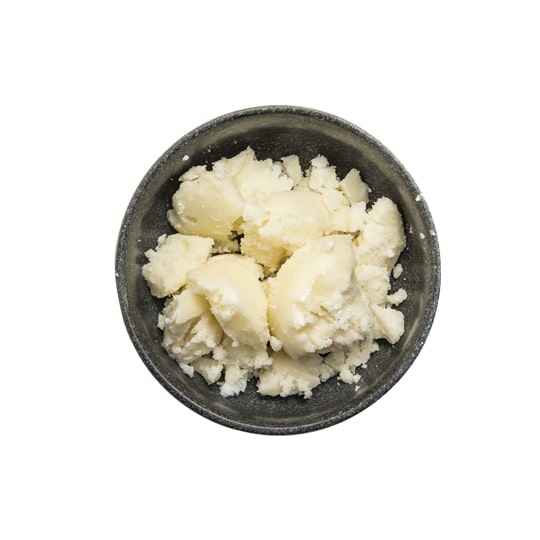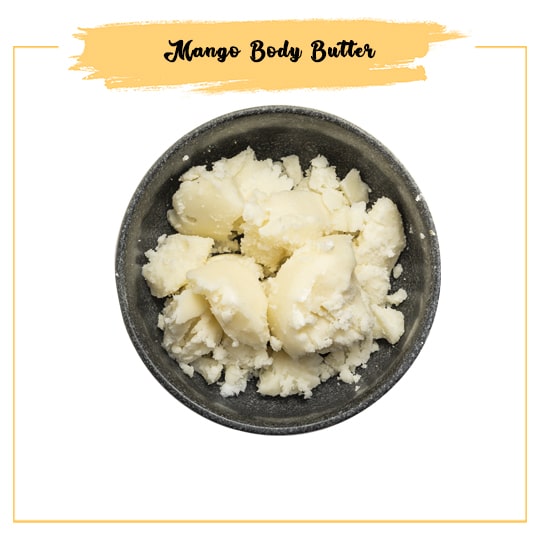 Our Certifications
Mango Body Butter
Organic Mango Body Butter is made from the fat derived from mango seeds which are also known as kernels of the mango and shea butter through steam-pressing and cold-refinement method. Organic Mango body butter is enriched with the goodness of Vitamin A, Vitamin C, Vitamin E, Vitamin F, Folate, Vitamin B6, Iron, Vitamin E, Potassium, Magnesium, Zinc, and antioxidants. Pure Mango body butter also contains salicylic acid, which is a great exfoliant that helps in removing the dead cells from the skin. It is also used to Treat Skin Disorders like eczema, psoriasis, ringworm infections, fungal infections, etc. Unrefined Mango body butter proves to be effective in Soothing Irritated Skin. It contains natural fat which has many moisturizing properties that help in nourishing the skin and keeping it healthy. The texture of Mango butter is smooth and rich. Unrefined and pure Mango butter contains Antioxidants like vitamin C that helps in getting rid of free radicals in the skin and increasing the production of collagen which delays the skin aging process.
Mango body butter also helps in removing the tanning on the skin and makes the Skin Complexion Even. The fatty acids present in mango body butter soften the skin and prevent the skin from getting dry and itchy. Organic Mango butter holds Hydrating Properties, so when it is applied topically it can form a protective layer that acts as a shield against harmful UV Rays. Unrefined mango body butter is Non-comedogenic so it doesn't clog pores. Whipped Mango body Butter contains phytochemicals that fight against cancer cells and prevents sunburns. The sweet-smelling fragrance of the natural mango butter is extracted from the kernels of the mango which are commonly used in Skin Care products, Hair Care products, Perfumes, Scented Candles, and Soap Making. Raw mango butter is the ideal ingredient for making lotions, balms, hair masks, and body butter. We at VedaOils, provide the finest quality of Organic Mango body butter that is Vegan-friendly, cruelty-free, chemical-free, and made up of 100% plant-based ingredients.
Organic Mango Body Butter Uses
Cosmetic Products
Products like Lipsticks, makeup cleansers, primer, serum, lip balm, and lip gloss use organic Mango Butter as it promotes younger and softer looking skin. It also rejuvenates and brightens the skin.
Candle & Soap Making
Use pure Mango butter for scented candles and soap making as it has a very sweet and subtle fragrance that calms the body. It also protects skin from the harsh effects of environmental changes.
Hair Care Products
Mango body butter is used in many hair care products like hair cleansers, conditioners, hair masks, etc., as it nourishes the scalp and prevents hair loss. It also controls itchiness, dryness, frizziness, and dandruff.
Sunscreen & Sunblock
Natural Mango body butter contains antioxidants and salicylic acid which protects the skin from harmful UV rays and also prevents the skin from sun damage and sunburns.
Massage Butter
Unrefined and pure mango body butter reduces muscle aches, fatigue, muscle strains, and tensions when it is used for massaging as it promotes cell regeneration and eases out the pain in the body.
Creams & Lotions
Organic Mango body butter is used in various moisturizers, lotions, ointments, gels, salves, and ointments as it hydrates and deeply conditions the skin. It also repairs dry and damaged skin.
Mango Body Butter Benefits
Soft & Supple Skin
Unrefined Mango body butter is an ultra-hydrating and moisturizing agent. It also promotes collagen synthesis that gives skin softness, suppleness, radiant, and a smoother appearance.
Skin Lightening
Mango body butter is used for skin lightening as it contains Vitamin A, Vitamin C, Vitamin E, Stearic acid, and linoleic acid which promote an even and bright complexion by reducing any kind of blemishes and tanning on the skin.
Antibacterial & Antimicrobial
Organic mango butter possess antibacterial and antimicrobial properties which prevent the skin from infections, irritation, rashes, allergies, etc, and fight the toxins and free radicals to keep the skin healthy.
Deeply Cleanse Pores
Pure Mango body butter is non-comedogenic which means that it deeply cleanses the skin's surface and unblocks the closed pores which can also benefit acne-prone and oily skin.
Anti-aging
Organic mango body butter is enriched with healthy agents that boost skin elasticity as well as make skin firmer and tighter and thereby reducing the appearance of fine lines and wrinkles on the skin.
Promotes Hair Growth
The presence of omega 6 and omega 9 in Mango butter stimulates hair strengthening and increases the growth of thicker, longer, and stronger hair by eliminating any kind of scalp disorder.
Product Specifications
| | |
| --- | --- |
| Product Name: | Mango Body Butter |
| Botanical Name: | Mangifera India (Mango) Seed Butter |
| Country of Origin: | India |
| CAS No: | 90063-86-8 |
| Appearance: | Waxy Solid |
| Color: | Pale yellow |
| Free Fatty Acid: | 14.06 |
| Saponification Value: | 170 - 185 |
| Melting Point: | 30℃ |
| Flash Point: | 91ºC |
| Odor: | Characteristic |
| Solubility: | Insoluble in Water |
| Type: | Body Butter |
| Application Area: | Face, Hair, Body |
| Free From:: | Chemicals, Preservatives, Parabens, Phthalates, Sulfates, SLS, SLES |
| Stroage: | Store in a Cool and Dry place. |
| Shelf Life: | 2 years |
| COA: | |
| MSDS: | |
CAUTION: CAUTION: It is meant only for external use. Do a patch skin test before applying it to your skin.
Packaging Sizes
Please Note: Please Note: The packaging shown above is a General Representation of the various sizes and types of packaging available for this product. Not all sizes and types of packaging for this product maybe available at all times.
Buy Organic Mango Body Butter at Wholesale Price
Vedaoils is one of the top-tier Mango body butter manufacturing and distributing companies in USA. Our Pure and Raw Mango body butter is made out of the finest quality plant-based ingredients. Mango body butter from VedaOils is completely Vegan-friendly, cruelty-free, and 100% natural. Our Mango body butter does not contain any added artificial colors, chemicals, or fragrances. This natural and unrefined mango butter contains Vegetable oils, Essential oils, and other natural ingredients that will make your skin and hair healthier.
You can Buy Mango Body Butter Online from VedaOils for commercial use as well as for your personal use at best price. It has a perfect consistency, so it can be used easily for any DIY at your home. We are offering our Organic Mango Body Butter in Bulk also in packages of varying quantities (from 2.2 lbs to 44 lbs) so that you can purchase them as per your needs. We export Whipped Mango Body Butter worldwide, including the UK, Australia, Dubai, USA, Canada, etc. We deliver our products worldwide using our different logistic partners DHL, FedEx etc. So, don't miss the chance and order the premium quality Mango Body Butter from VedaOils.
Frequently Asked Questions