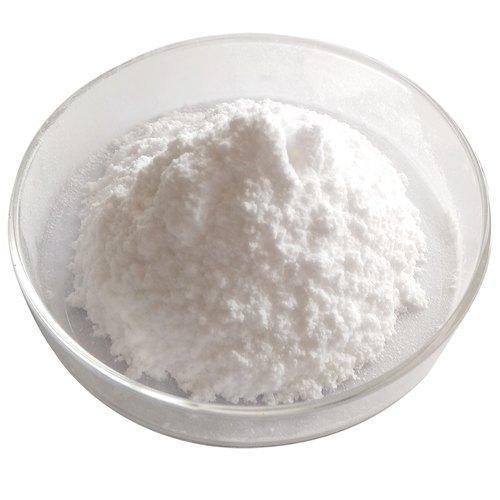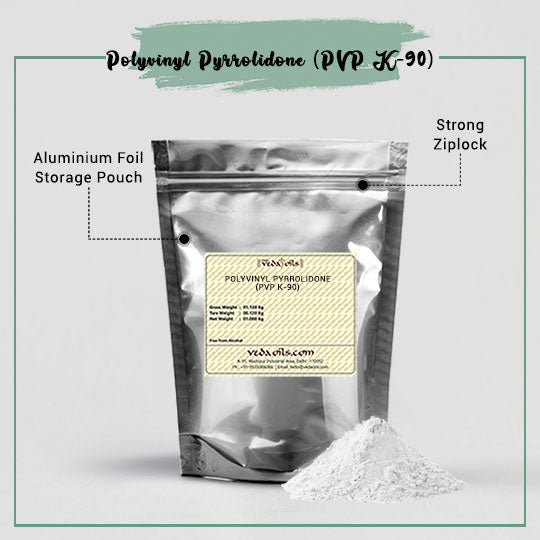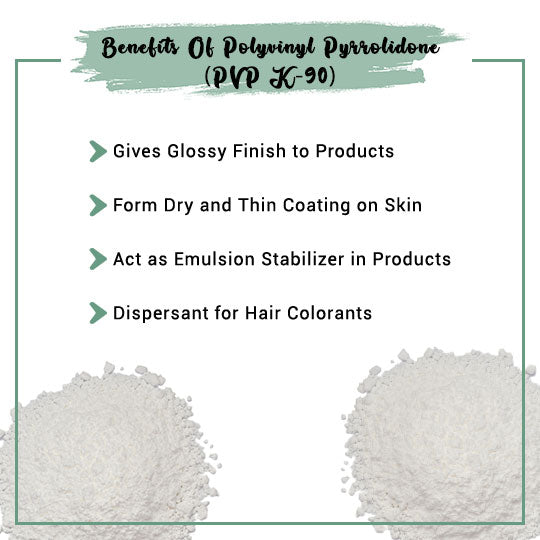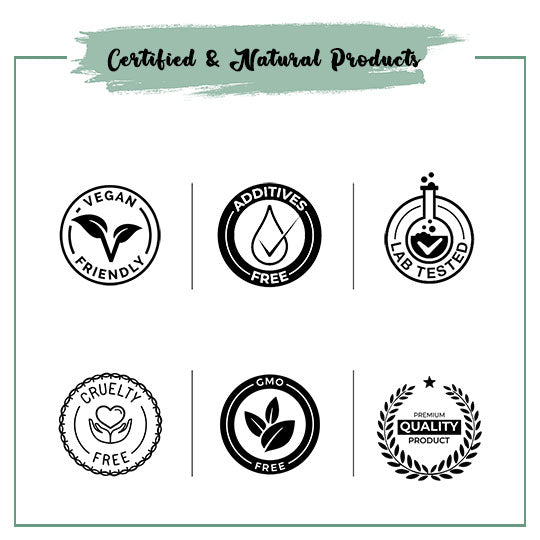 Our Certifications
Polyvinyl Pyrrolidone - PVP K 90
PVP K 90 is a polymer that is amorphous and hygroscopic. It is a water-soluble polymer of a non-ionic type that has a stable pH level. The film-forming properties of this ingredient make it effective in many cosmetic products. PVP K 90 forms a hard glossy film on your skin that can be removed upon becoming sufficiently dry.
Apart from that, PVP K 90 also possesses cohesive and adhesive properties. As it is available in a fine powdered form of white color, you can add it in different formulas conveniently. PVP K 90 hold the hair in place irrespective of the climate makes it a great ingredient in hair styling products.
PVP K 90 also gives a glossy texture and appearance to your hair. You may also use it as a stabilizer as it also blends it with natural ingredients such as resins, inorganic salts, acrylate thickeners, etc. PVP K-90 proves to be effective as a dispersant in hair coloring solutions. Cosmetics and personal care products such as lotions, toothpaste, etc. can be made to be of sparkling white color by using this as one of the primary ingredients.
PVP K 90 is also available in the form of crystals or flakes but powdered PVP K-90 is the best and convenient to use as it can be easily mixed and added to formulas in different stages. PVP K 90 is also used in pharmaceutical products especially as an adhesive to bind the ingredients of tablets. PVP K 90 possesses cleansing properties as well due to which it is also used in surface cleaners, home cleaners, dishwashing solutions, laundry detergents, and much more.
PVP K 90 Benefits
Solubility: PVP K-90 is soluble in alcoholic solvents and H2O. However, it is not soluble in hydrocarbons and oils. Therefore, avoid adding it when the formula is in the oil-phase. PVP K-90 is also used as a solubilizing agent because of its ability to blend and dissolve a variety of biochemicals and natural ingredients in emulsions.
Versatile: As it is a stable ingredient you can add it to formulas without worrying about their pH balance. Also, it is non-ionic and blends with a variety of ingredients. Therefore, you can use it for making a wide range of cosmetic and skincare products. However, don't add a huge amount of this powder as it might make your emulsions and final products too thick.
Perfect for Hair Gels: PVP K-90 is mostly used in hair styling applications like hair gels, pomades, etc. because of its ability to retain the form and hardness of hair irrespective of the weather conditions. Its capacity to resist heat and humidity makes it one of the best ingredients for hair styling products.
Moisturizing: Due to its hygroscopic properties, PVP K-90 is widely used in skincare products like lotions and moisturizers. It retains the moisture content of your skin for a long time and rejuvenates your skin deeply to make it soft, plump, and smooth.
Other Uses: PVP K-90 is used as a dispersant in pigments and it is also effective as a stabilizer for oral care products (suspensions). Moreover, it also proves to be effective in improving the bioavailability of solutions. As a stabilizer, it proves to be useful in enhancing the overall shelf-life of cosmetic products. As it has a higher molecular weight than other forms of PVP, it is used as a viscosity enhancer for cosmetic products. Moreover, it is also added while manufacturing paints, adhesives, inks, and other industrial solvents and lubricants.
Product Applications: Hair gels, pomades, hair styling products, moisturizers, lotions, creams, moisturizers, and other skincare and hair care products contain it as one of the key ingredients.
How to use PVP K 90?
The recommended use level ranges from 1% to 40%. Don't use more than 7% when using it for making hair gels and similar products.
Product Specifications
| | |
| --- | --- |
| Raw Material Source: | N-vinylpyrrolidone |
| Manufacturing Process: | It is made by a process called polymerization in which N-vinylpyrrolidone is used as the source material along with hydrogen peroxide. |
| Chemical Formula: | (C6H9NO)n |
| CAS Number: | 9003-39-8 |
| IUPAC Name: | Polyvinylpyrrolidone K 90 |
| INCI Name: | Polyvinylpyrrolidone |
| Molecular Weight: | 111.14 grams/mole |
| Specific Gravity: | N/A |
| Boiling Point: | 165 °C |
| Flash Point: | N/A |
| Odor: | Bland |
| pH Level: | 3 to 7 |
| HLB Value: | 18 |
| Color: | White or off-white |
| Grade Standard: | Technical Grade |
| Shelf Life: | 24 months |
| Purity (%): | 99% |
| Form: | Powder |
| Alternative Names: | PVP |
| Solubility: | Yes |
| Applications: | Skincare, Personal Care, Haircare, Cosmetic |
CAUTION: Polyvinyl Pyrrolidone - PVP K-90 is meant only for external applications.
Buy PVP K-90 Online in USA at Low Prices
VedaOils is the leading manufacturer, supplier, and exporter of essential oils, cosmetic raw materials, and other natural products in USA. To benefit from these products, buy online and we are offering them at cost-friendly prices so that you can purchase them in bulk. We are providing premium-quality raw cosmetic ingredients like PVP K-90so that you can use them to enhance the appearance, properties, usefulness, and effectiveness of your end products. Order this powder now and experience the magic of purity and quality!
Frequently Asked Questions