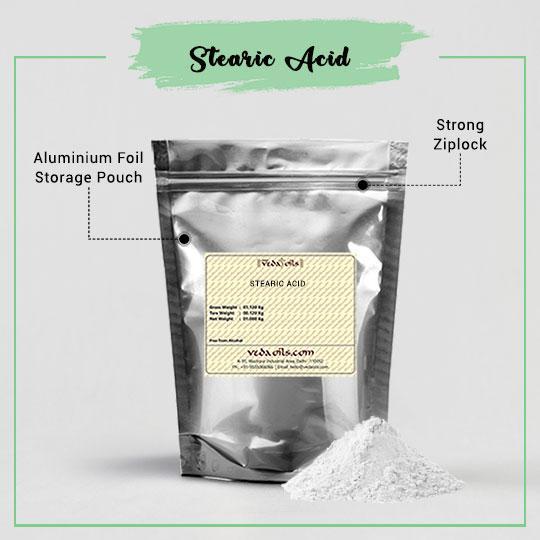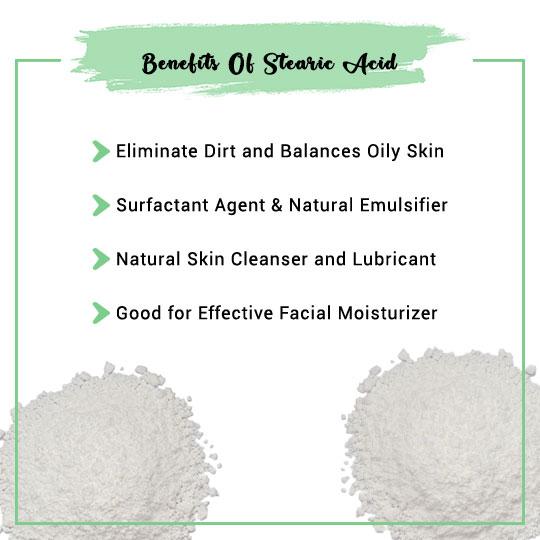 Our Certifications
Stearic Acid
Stearic Acid is found naturally in vegetable fats. It is a fatty acid that is present in several food items as well. Stearic Acid is typically used due to its anionic emulsifier to be used in o/w emulsions. Stearic Acid is also used in many personal care applications like soaps, lotions, creams, etc.
Stearic Acid available as flakes that are white or slightly yellow in color. Also, it is slightly soluble in water and can be completely dissolved in oil. It is a saturated type of fatty acid that can be also found in Shea Butter and Cocoa Butter. Stearic Acid also used in cosmetic applications due to its properties such as Cleansing, Surfactant, Refatting, Emulsifying, Emulsion Stabilizing and Masking.
Stearic Acid can be obtained from animal fats, it is mostly manufactured from vegetable oils and plant sources to make it ideal for everyone. Due to its thickening properties., Stearic Acid is mostly retrieved from Palm Oil and it proves to be one of the better alternatives to chemical-based cosmetic ingredients.
Stearic Acid is used in cosmetic applications due to its emollient and lubricating properties. It is also used to stabilize, thicken, and soften emulsions and has soothing properties as well. Stearic Acid adds a pearly shine to products and makes them soft and velvety as well. Its occlusive property gives it the potential to prevent loss of moisture from the surface of your skin.
Stearic Acid Benefits
Anti-Aging Products
Anti-aging products containing this fatty acid keep the surface of your skin smooth. Also, they work against water loss and reverse the aging signs by rejuvenating the skin pores. Vegetable based stearic acid is effective against fine lines and wrinkles as well.
Sunscreen
Stearic fatty acid protects the skin barrier and prevents the entry of toxins like dust, dirt, and sunlight. It is added to sunscreen lotions and can also be included in the daily skincare routines to keep the skin fresh, lively, and hygienic.
Moisturizers & Lotions
Emollient properties of natural stearic acid make it the right contender for products like moisturizers, baby lotions, body lotions, etc. It replenishes the moisture level of your skin and sustains the softness and hydration throughout the day.
Soaps & Candles
Stearic Acid hardens scented soaps and candles. It gels well with palm wax, soy wax, and other types of waxes and helps you produce premium-quality and long-lasting candles. The scented candles made by using this fatty acid won't melt away quickly. You will be able to enjoy their scent longer.
Haircare Products
Haircare products such as conditioners and shampoos contain pure stearic acid as one of their important constituents. It is due to the conditioning properties of this fatty acid that protect hair follicles and create a shiny armor around them without making them too heavy or bulky.
Skin Cleansers
Organic stearic acid cleanses your skin deeply by binding oil, water, and dirt particles. After that, the surfactant properties work to remove these particles from your skin's surface to give you fresh and clean skin. Body scrubs, face scrubs, face washes, etc., contain this fatty acid as their primary ingredients.
Stearic Acid Benefits
Soothes Dry Skin
Pure stearic acid cleanses your skin deeply and does not dry it out completely. It is a gentle cleanser that soothes irritated skin by rejuvenating with its moisturizing properties. Also, the natural oils remain intact even after their application.
Enhances Stability
Stearic fatty acid acts as a stabilizer as it prevents the ingredients from separating. It binds closely to create a smooth texture observed in premium quality cosmetic and makeup products. Add them to your DIY products to give them a silky texture.
Improves Spreadability
Spreadability of skincare and cosmetic products improves by adding stearic acid powder. It works as an emulsifier to provide a smooth finish and luxurious appearance to the products. You can apply the product evenly on your skin's surface.
Whitens Skin
Organic stearic acid has a skin whitening ability, and it protects your skin from sun damage and prevents it from getting tanned. It is possible due to the UV filters that are naturally present in this fatty acid. It is a good addition to both sunscreens and skin brightening creams and lotions.
Makes Hair Glossy
Vegetable based stearic acid makes your hair soft and manageable, and it also adds a shining coat to give them a neat and visible glossy appearance. It also helps remove excess sebum, sweat, and dirt from the hair, and you may find it in hair styling and grooming applications.
Reduces Flakiness
Natural stearic acid helps prevent flakiness or chapping of the skin by restoring the hydration level of your skin. It may also soothe skin irritation that is associated with skin ailments like psoriasis. It also strengthens the skin barrier and fills invisible cracks and gaps.
Product Specifications
| | |
| --- | --- |
| Raw Material Source: | Vegetable oils & fats derived from plants |
| Manufacturing Process: | It is manufactured from vegetable oils and fats by using hot water. It results in saponification of triglycerides and the obtained blend is distilled to purify it further |
| Chemical Formula: | C18H36O2 |
| CAS Number: | 57-11-4 |
| IUPAC Name: | octadecanoic acid |
| INCI Name: | Stearic Acid |
| Molecular Weight: | 284.48 g/mol |
| Specific Gravity: | N/A |
| Boiling Point: | 361 °C |
| Flash Point: | N/A |
| Odor: | Pungent |
| PH Level: | 6 |
| HLB Value: | 15.0 |
| Color: | White |
| Grade Standard: | Industrial Grade |
| Shelf Life: | 24 months |
| Purity (%): | 99% |
| Form: | Powder |
| Alternative Names: | N/A |
| Solubility: | Yes |
| Applications: | Stearic Acid proves to be one of the ideal cosmetic raw materials in lotions, foundations, skin protection products, soaps, after-shaving products, and other personal care products. |
CAUTION: Remember that it can only be used for external applications.
Packaging Sizes
Please Note: The packaging shown above is a General Representation of the various sizes and types of packaging available for this product. Not all sizes and types of packaging for this product maybe available at all times.